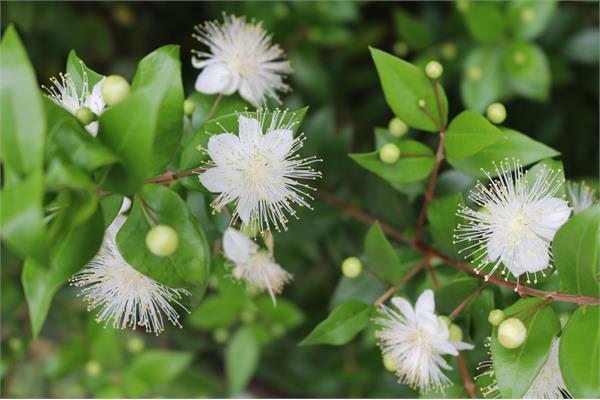 Aniseed Myrtle Essential Oil
PAMYRT
Backhousia anisata (Australia)
$17.75
Aniseed Myrtle Essential Oil History:
Aniseed Myrtle Essential Oil no doubt has traditional indigenous uses in Australia but that knowledge is not freely available. A period during World War 2 last century when aniseed was in undersupply resulted in harvesting of Aniseed Myrtle to make up for the short fall. Over time Aniseed Myrtle has also become a bush tucker ingredient.
Description

Aniseed Myrtle Oil Safety
Aniseed Myrtle Essential Oil
(Backhousia anisata)
Leaves - Steam Distilled
Aniseed Myrtle University Studies:
The School of Biomedicial Sciences, Charles Sturt University, Australia studied the antibacterial activity of Backhousia anisata and demonstrated activity against some bacteria including Candida albicans and Staphylococcus aureus.
Aniseed Myrtle essential oil is also known as Ringwood Oil. It is a great essential oil for unwinding, relaxing and can help with depression and anxiety. It may also be used for colds, coughs and bronchitis due to its expectorant properties. Aniseed Myrtle is known to help with menopause and premenstrual tension. Another mood elevating oil.
The scent of Aniseed Myrtle essential oil can be described as similar to other aniseed oils, but fresher with liquorice tones.
Aniseed Myrtle oil blends well with Hyssop, Grapefruit and Bergamot oils.
Aniseed Myrtle Essential Oil Safety:
Tisserand and Young indicate maximum dermal use level of 2.7%
Contraindications: Pregnancy, breastfeeding, endometriosis, estrogen-dependent cancers, children under 5 years of age. Cautions (oral): Diabetes medication, anticoagulant medication, major surgery, peptic ulcer, haemophilia, other bleeding disorders
General Essential Oil Safety:
Some essential oils may cause photosensitivity to the skin-Use diluted in Jojoba or other complete carrier oil.
Do not ingest essential oils.
Do not apply to eyes, sensitive areas or mucous membranes.
The information on this website is not intended to be used in the diagnosis, treatment or mitigation of any physical or mental illness. Ahimsa Oils offer no advice or recommendations only general information. No therapeutic claims are made within.
Pregnant women, nursing mothers, epileptics and people with extremes in blood pressure as well as children should not use essential oils without first consulting an appropriately trained healthcare practitioner.
The statements on this website have not been evaluated by the TGA. David Bosley however worked for a long period however in consultation with the TGA to ensure correct labelling with reference to the Ahimsa Oil product range.
Aniseed Myrtle Essential Oil Key Constituents:
(E)-Anethole 95.0%
Estragole 4.4%
(Brophy et al 1995)