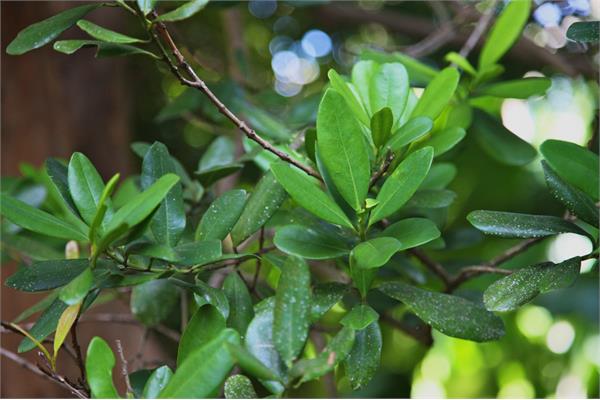 Bay Essential Oil
PBAY
Pimenta racemosa (West Indies)
$17.60
Bay Historical Snippets:
Bay Essential Oil is from "the spice tree" or "bay rum tree". The Bay leaf is brewed into teas and also may help keep the bugs off and away from you and in your pantry. Unpleasant odours were also masked by hanging Bay branches in dwellings. Also used as a native febrifuge using an sponge bath technique on the sick.
Description

Bay Oil Safety
Bay Essential Oil
(Pimenta racemosa)
Leaves - Steam Distilled
Aromatherapeutic Uses:
Dandruff, hair care, neuralgia, oily skin, poor circulation, sprains, strains. [Julia Lawless, The Illustrated Encyclopedia of Essential Oils (Rockport, MA: Element Books, 1995), 56-67.]
Shelf Life of Bay Essential Oil:
Our freshly decanted Bay essential oil will last for 2-3 years minimum from when you open your amber glass bottle if stored correctly:
Primary Storage Considerations:
Keep away from direct light (U.V. radiation)
Keep in the amber glass bottle with lid tightly closed. Only open when you need to and decant into a smaller "working" amber glass bottle if possible (and label so you know what is in it). This is to reduce oxidation.
Secondary Storage Considerations:
Keep in a refrigerator at around 4 degrees celsius.
Bay Essential Oil Key Constituents:
Below constituent ranges comprise 68% of the data within the normal distribution curve.
Growing conditions or plant chemotype can change constituent levels or constituents themselves.
Eugenol 44.4–56.2% (58.10% current batch)
b-Myrcene 6.4–25.0% (21.77% current batch)
Chavicol 9.3–21.6% (2.41% current batch)
Linalool 1.7–6.0% (2.53% current batch)
(þ)-Limonene 0.8–3.9% (3.36% current batch)
1-Octen-3-ol 0.9–2.0%
1,8-cineole 0.2–1.4%
Methyleugenol 0–1.4% (3.36% current batch)
(E)-b-Ocimene 0–1.4%
Terpinen-4-ol 0.3–1.2%
3-Octanone 0.8–1.1%
d-Cadinene 0.6–1.0%
3-Octanol 0.6–1.0%
p-Cymene 0.1–1.0%
Estragole trace–0.1%
(Source:McHale et al 1977; Tucker et al 1991a; Abaul & Bourgeois 1995; Jirovetz et al 2007)
An enticing spicy and masculine aroma used in hair tonics, splash on colognes and other products. The bay rum oil steam distilled from the leaves of the West Indian evergreen tree is used in hair tonics not only for its manly notes but aids in scalp health. Don't forget to use this in your made for male soaps or body washes either! Bay leaf oil is known for its analgesic properties and facilitating muscle and joint pain relief.