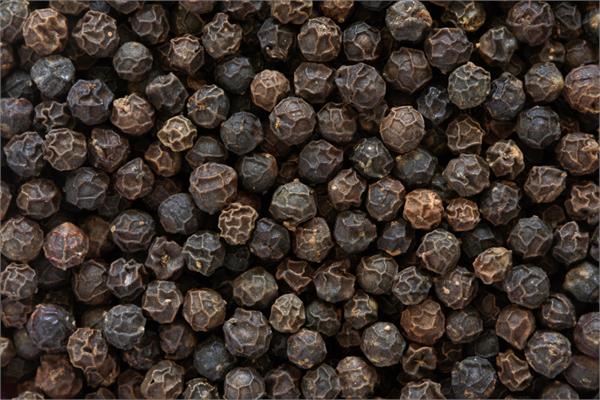 Black Pepper Essential Oil
PPEPB
Piper nigrum (India)
$11.50
Black Pepper Historical Snippets:
What we may now know as just another dinner table necessity along with salt, Black Pepper was once an extremely highly regarded spice. During the expansion of the Roman Empire, it quickly became a symbol of power and the demand for pepper grew. National economies fought wars in an attempt to control its supply. It was even used as money for hundreds of years. In Chinese medicine, it was used to treat a number of conditions including stomach aches, diarrhea, malaria, cholera and digestive problems.
Description

Black Pepper Oil Safety
Black Pepper Essential Oil
(Piper nigrum)
Berries - Steam Distilled
Aromatherapeutic Uses:
Cognitive support and brain health. [Dorene Petersen, Presentation: Clinical Use of Aromatherapy for Brain Health: 7 Esssential Oils August 9, 2017, New Brunswick, NJ. Alliance of International Aromatherapists 2017 Conference. AIA 2017 Conference Proceedings page 221-222.]
Aching muscles, arthritis, chilblains, constipation, muscle cramps, poor circulation, sluggish digestion. [Julia Lawless, The Illustrated Encyclopedia of Essential Oils (Rockport, MA: Element Books, 1995), 56-64.]
Black Pepper Essential Oil Aromatherapy References:
SYSTEMS

Black Pepper Essential Oil in Aromatherapy

Integumentary:

Chilblains, bruises, cuts, wounds, dermatosis

Respiratory:

Catarrh, chronic bronchitis, laryngitis, tonsillitis, warms chill, cold feeling

Muscular / Skeletal:

Arthritis, muscle aches & pains, neuralgia, poor muscle tone, temporary paralysis,

stiffness, rheumatism, tones muscles before sports, sprains

Cardiovascular / Lymphatic:

Increases circulation (dilates local blood flow)

Immune:

Cold, flu, infections, viruses, may lower temperature

Digestive:

Toothache, tonsillitis, antidote to fish & mushroom poisoning, increases saliva,

stimulates liver-pancreas, stimulates appetite, colic, constipation, diarrhea,

flatulence, heartburn, nausea, vomiting, restores colon tone

Endocrine:

Genito-Urinary / Reproductive:

Frigidity, impotence, stimulates kidney & urinary system, increases urine flow, aids

detoxification, for uro-genital discharges

Nervous Brain/ Mind

Mental stimulant, aids alertness, stamina, warms to indifference, eases life changes
Sheppard-Hanger, Sylla. The Aromatherapy Practitioner Reference Manual: Atlantic Institute of Aromatherapy, 1999. Print.
Shelf Life of Black Pepper Essential Oil:
Our freshly decanted Black Pepper essential oil will last for 2-3 years minimum from when you open your amber glass bottle if stored correctly:
Primary Storage Considerations:
Keep away from direct light (U.V. radiation)
Keep in the amber glass bottle with lid tightly closed. Only open when you need to and decant into a smaller "working" amber glass bottle if possible (and label so you know what is in it). This is to reduce oxidation.
Secondary Storage Considerations:
Keep in a refrigerator at around 4 degrees celsius.
This sharp and spicy oil is known for its physical and emotional benefits, and may provide you with several assistances through its therapeutic properties.
Black Pepper essential oil will remind you of freshly ground peppercorns but in an extremely mellow way. That's right no irritation as pepper does. Considered to relieve pain and support the immune system. This uplifting oil may also help you with stress reduction.
Black Pepper essential oil blends perfectly well with Clove, Bergamot, Ginger, Lavender, Lemon, Mandarin, Clary Sage, Fennel, Geranium, Grapefruit, and Sandalwood.