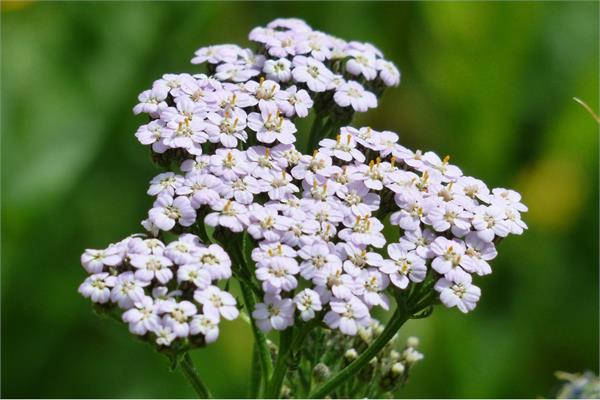 Blue Yarrow Essential Oil
PYAR
Achillea millefolium (Croatia)
$8.90
Yarrow, Blue Historical Snippets:
Nicknamed "Soldiers woundwort", it is believed Yarrow was used to treat the bleeding wounds of soldiers in battle. The root was used to treat a number of skin conditions by American Indians including itching, swelling, insect bites and providing pain relief.
Description

Blue Yarrow Oil Safety
Blue Yarrow Essential Oil
(Achillea millefolium)
Plant - Steam Distilled
Yarrrow, Blue Essential Oil Aromatherapy References:
SYSTEMS

Yarrow, Blue (Achillea millefolium) Essential Oil

Integumentary:

Acne, burns, warts, eczema, severe rashes, allergies, cellulite, inflammation, scars,

ulcers, varicose veins, wounds, skin rashes, hard to heal wounds, astringent

balances oily skin and scalp, promotes hair growth, encourages perspiration,

possible anticancer (Medical Diagnosis Required), antitumor (MDR), and protection

from radiation burns

Respiratory:

Head and sinus congestion, infections, catarrh

Muscular / Skeletal:

Rheumatoid arthritis, acts on bone marrow, pain reliever for rheumatic pain,

backache, headache

Cardiovascular / Lymphatic:

Thrombosis (Medical Diagnosis Required), vascular tonic, varicose veins,

haemorrhoids, arteriosclerosis (MDR)

Immune:

Flu, infections, feverish colds

Digestive:

Constipation, colic, cramp, gas, gout, haemorrhoids, indigestion; stimulates gastric

and intestinal gland secretion, improves sluggish digestion, encourages appetites,

eases diarrhea, stimulates hepato-biliary system (bile, fat digestion), aid to

detoxification for drugs and alcohol

Endocrine:

Genito-Urinary / Reproductive:

Pelvic inflammatory disease (Medical Diagnosis Required), cystitis, bladder &

kidney infections (MDR), balances urine flow, induces menstruation, regulates

heavy, irregular and painful menstruation, menopausal problems, prolapse of

uterus (MDR), breast fibroids (MDR), useful in prostatitis (MDR)

Nervous Brain/ Mind

Neuralgia, insomnia, stress, may help raise spirits and uplift, balancing and

supporting to intuition, opens to cosmic energy
Sheppard-Hanger, Sylla. The Aromatherapy Practitioner Reference Manual: Atlantic Institute of Aromatherapy, 1999. Print.
Shelf Life of Blue Yarrow Essential Oil:
Our freshly decanted Blue Yarrow essential oil will last for 2-3 years minimum from when you open your amber glass bottle if stored correctly:
Primary Storage Considerations:
Keep away from direct light (U.V. radiation)
Keep in the amber glass bottle with lid tightly closed. Only open when you need to and decant into a smaller "working" amber glass bottle if possible (and label so you know what is in it). This is to reduce oxidation.
Secondary Storage Considerations:
Keep in a refrigerator at around 4 degrees celsius.
This wonderful oil is known to nourish the mind, body and heart, some believe that it has the same vitality as that of the earth.
Yarrow Blue essential oil has an herbaceous aroma with sweet and spicy undertones which are a little similar to Wormwood. This oil is loved for its balancing effects that may help healing wounds and may help you with dry skin.
Blends perfectly with Pine, Angelica, Chamomile, Myrrh and Cedarwood.