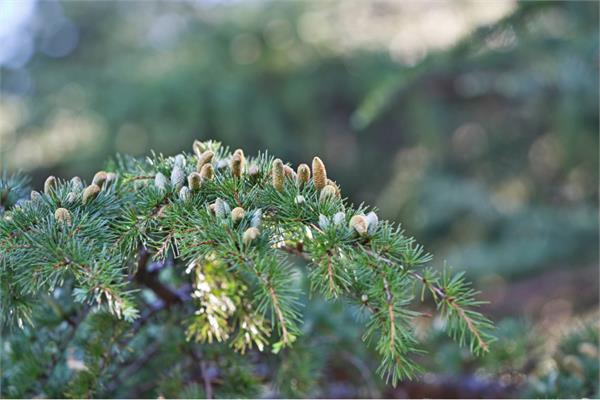 Cedarwood, Himalayan Essential Oil
PCEDH
Cedrus deodora (Nepal)
$4.90
Cedarwood Historical Snippets:
Possibly one of the first essential oils to be extracted from a plant, Cedarwood oil had many uses. It was used as a base for paints by ancient Sumerians, while it was used to mummify bodies by the ancient Egyptians and Greeks as they believed it helped make one immortal. Cedarwood treated a number of varying maladies from urinary tract infections to bronchial infections. It was even used as an insect repellent. The Native Americans would burn the plant to be used in their rituals which they believed the smoke would carry their prayers to the Great Spirit.
Description

Cedarwood, Himalayan Oil Safety
Cedarwood, Himalayan Essential Oil
(Cedrus deodora)
Wood - Steam Distilled
Himalayan Cedarwood Essential Oil Aromatherapeutic Uses:
SYSTEMS

Himalayan Cedarwood Essential Oil

Integumentary:

Acne, oily skin (scalp and hair), fungus, boils, seborrhea, dandruff and alopecia

( hair loss)

Respiratory:

Respiratory infection or congestion, chronic bronchitis & coughs,

Muscular / Skeletal:

Rheumatism and arthritis pain

Cardiovascular / Lymphatic:

Stimulates lymph circulation

Immune:

Digestive:

Endocrine:

Genito-Urinary / Reproductive:

Urinary infections, chronic urethritis, vaginitis, cystitus pain

Nervous Brain/ Mind:

Nervous system sedative
Sheppard-Hanger, Sylla. The Aromatherapy Practitioner Reference Manual: Atlantic Institute of Aromatherapy, 1999. Print.
Loved for its dry and smoky aroma, Himalayan Cedarwood essential oil has a subtle touch of spice and wood. The strong aroma comes from the tall evergreen trees growing on the slopes of the majestic Himalayas.
Himalayan Cedarwood essential oil can help you relax with its calming effect. It can assist as a tonic for the mind and body, and can help you balance your busy lifestyle.
Himalayan Cedarwood essential oil blends well with citrus oils, Chamomile, Eucalyptus and Rosemary.