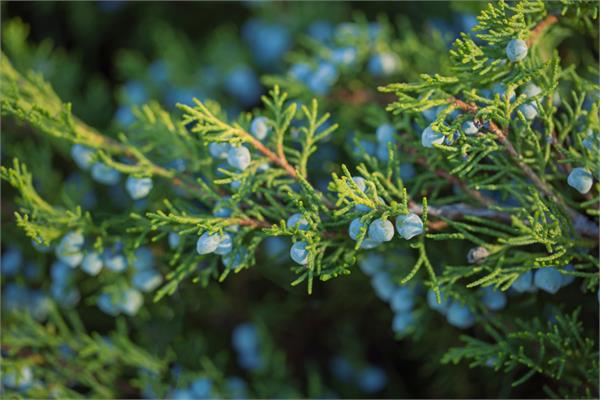 Cedarwood, Virginian Essential Oil
PCED
Juniperus virginiana (USA)
$9.20
Cedarwood Historical Snippets:
Possibly one of the first essential oils to be extracted from a plant, Cedarwood oil had many uses. It was used as a base for paints by ancient Sumerians, while it was used to mummify bodies by the ancient Egyptians and Greeks as they believed it helped make one immortal. Cedarwood treated a number of varying maladies from urinary tract infections to bronchial infections. It was even used as an insect repellent. The Native Americans would burn the plant to be used in their rituals which they believed the smoke would carry their prayers to the Great Spirit.
Description

Cedarwood, Virginian Oil Safety
Cedarwood, Virginian Essential Oil
(Juniperus virginiana)
Wood - Steam Distilled
Aromatherapeutic Uses:
Acne, arthritis, bronchitis, coughs, cystitis, dandruff, dermatitis, insect repellent, stress. [Julia Lawless, The Illustrated Encyclopedia of Essential Oils (Rockport, Massachusetts: Element Books, 1995), 56-65.]
Sedative, astringent and antiseptic. Anxiety, nervous tension, concentration, catarrhal conditions, coughs, chronic bronchitis, cystitis, UTIs, oily skin, acne, insect repellent. [Salvatore Battaglia, The Complete Guide To Aromatherapy (Australia: The Perfect Potion, 2003), 178-179.]
Virginian Cedarwood Essential Oil Aromatherapy References:
SYSTEMS

Virginian Cedarwood Essential Oil

Integumentary:

Acne, oily skin (scalp and hair), scabs and pus, seborrhea, dandruff, alopecia

( hair loss), insect repellant and softens skin

Respiratory:

Respiratory infection or congestion, bronchitis & coughs, sinusitis, excess mucus

Muscular / Skeletal:

Rheumatism and arthritis pain (especially chronic cases)

Cardiovascular / Lymphatic:

Stimulates lymph circulation, aids hemorrhoids (both internal and external types)

Immune:

Digestive:

Endocrine:

Genito-Urinary / Reproductive:

Cystitus pain, leucorrhea (type of vaginal discharge), abortifacient

Nervous Brain/ Mind:

Stress, tension and nervous disorders
Sheppard-Hanger, Sylla. The Aromatherapy Practitioner Reference Manual: Atlantic Institute of Aromatherapy, 1999. Print.
Shelf Life of Cedarwood Essential Oil:
Our freshly decanted Cedarwood essential oil will last for 3-4 years minimum from when you open your amber glass bottle if stored correctly:
Primary Storage Considerations:
Keep away from direct light (U.V. radiation)
Keep in the amber glass bottle with lid tightly closed. Only open when you need to and decant into a smaller "working" amber glass bottle if possible (and label so you know what is in it). This is to reduce oxidation.
Secondary Storage Considerations:
Keep in a refrigerator at around 4 degrees celsius.
The pale yellow hue of this exotic essential oil is sometimes resonant of refreshing sandalwood – the sugary and woody aroma is intoxicating and assists in soothing the mind and body.
Our Virginian Cedarwood essential oil has a reputation to calm the nerves, the soothing nature of this refreshing oil alleviates the different states of anxiety. It is also a known antiseptic and may combat acne.
Virginian Cedarwood essential oil can be blended with Bergamot, Cypress, Jasmine, Clary Sage, Sandalwood, Ylang Ylang and Juniper.