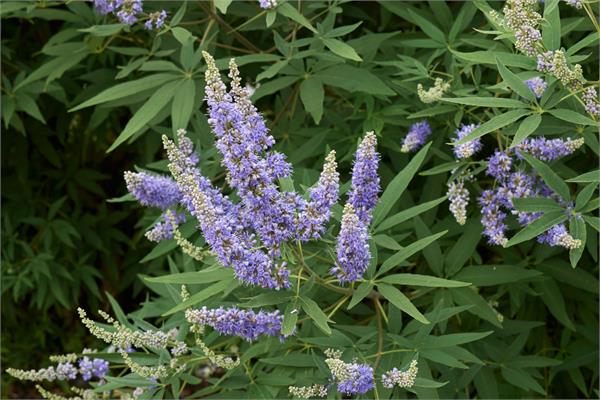 Chaste Tree (Vitex) Essential Oil
PCTV
Vitex agnus-castus (Turkey)
$10.00
Chaste Tree (Vitex) Historical Snippets:
Chaste Tree (Vitex) leaves according to Pliny (the ancient physician) were used by Greek women and placed onto their beds to preserve chastity. This was attributed to the leaves strong odour which perhaps kept amorous men at bay. Chaste Tree (Vitex) essential oil I can assure you smells quite nice however.
Description

Chaste Tree Oil Safety
Chaste Tree Vitex Essential Oil
(Vitex agnus-castus)
Leaves & Berries - Steam Distilled
Aromatherapeutic Uses:
Clinical trials support possible benefits;
Premenstrual syndrome – PMS: This includes: premenstrual mastalgia (breast pain) and fluid retention. Emotional complaints, such as weepiness, loss of self-esteem and mood swings appear to benefit as well.
Menstruation disorders including secondary amenorrhea (lack of menstruation), irregular menstrual bleeding from functional causes (metrorrhagia), lengthened or shortened menstrual cycle.
Infertility due to decreased progesterone levels or excessive prolactin levels.
Insufficient milk production
Menopausal symptoms and helping withdrawal from hormone replacement therapy.
Conditions where excessive oestrogen / low progesterone are implicated, such as endometriosis, fibroids and ovarian cysts.
Conditions caused by excessive prolactin levels, such as erectile dysfunction in men, galactorrhea (breast milk production in women outside of pregnancy or in men), male acne, breast cysts, fibrocystic breast disease and benign prostatic hyperplasia.
Shelf Life of Chaste Tree Essential Oil:
Our freshly decanted Chaste Tree essential oil will last for 2-3 years minimum from when you open your amber glass bottle if stored correctly:
Primary Storage Considerations:
Keep away from direct light (U.V. radiation)
Keep in the amber glass bottle with lid tightly closed. Only open when you need to and decant into a smaller "working" amber glass bottle if possible (and label so you know what is in it). This is to reduce oxidation.
Secondary Storage Considerations:
Keep in a refrigerator at around 4 degrees celsius.
Comments from Barbara Chopin Lucks who wrote The Vitex Anthology:
"Essential oil Vitex is exhibiting a remarkable ability to reduce or eliminate hot flashes and night sweats. Many women also report that vaginal tone and lubrication is markedly improved with use of the oil. A majority of test subjects who reported irregular periods before using the oil reported regulation of periods after a few months of use. However, the effect that elicits the most grateful comments is the apparent ability of Vitex to calm emotional swings and help with some of the cognitive changes during menopause. Response to the oil can take 4-6 weeks of regular use, or response can be almost instant. I have witnessed very rapid release from hormonal headaches and hot flashes by women who use the oil by inhalation. Symptoms such as irregular periods and flooding generally start showing improvement after 6-12 weeks of regular use. People who expect an essential oil to work with the speed of a synthetic drug may give up too soon on Vitex."