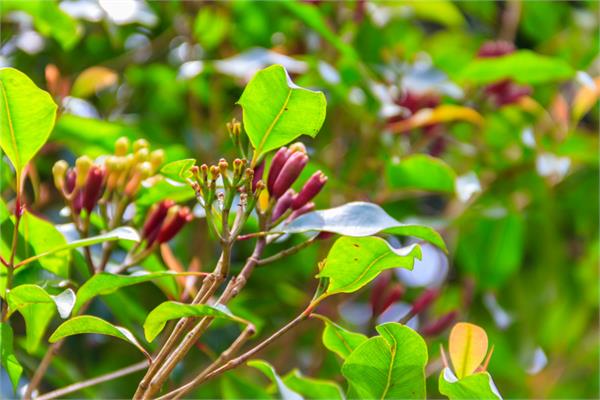 Clove Bud Essential Oil
PCLO
Syzygium aromaticum (Indonesia)
$9.50
Clove Bud Historical Snippets:
Traditionally, Clove plants have only grown on a few of the Moluccas Islands. However, in modern times, archaeologists in Syria have discovered a ceramic vessel containing cloves dating as far back as 1721 BC. It was once such a highly-prized plant that it was considered to be one of the most valuable commodities of the 16th and 17th centuries in Europe. Due to the expense of importing them, they were worth their weight in gold. Throughout history, clove has not only been used as a spice, but also for digestive complaints, skin problems, bronchitis, diarrhea, hernias and most importantly its powerful antiseptic properties.
Description

Clove Bud Oil Safety
Clove Bud Essential Oil
(Syzygium aromaticum)
Buds - Steam Distilled
Aromatherapeutic Uses:
Robbi Zeck offers a nice profile for Clove Bud Essential Oil and mentions that "Clove Bud heightens inner strengths when external and internal environments need to change." [Robbi Zeck, ND, The Blossoming Heart: Aromatherapy for Healing and Transformation (Victoria, Australia: Aroma Tours, 2008), 74.]
Pain relief, bacterial infection, fungal infection, viral skin infection, warts, verrucas, toothache, gum disease, muscle pain, rheumatism, flu, bronchitis, tired limbs, nausea, flatulence, stomach cramp, abdominal spasm, parasitic, infection, scabies, ringworm. [Valerie Ann Worwood, The Complete Book of Essential Oils and Aromatherapy, 25th Anniversary Edition (Novato, CA: New World Library, 2016, 581.]
Cognitive support and brain health. [Dorene Petersen, Presentation: Clinical Use of Aromatherapy for Brain Health: 7 Essential Oils. August 9, 2017, New Brunswick, NJ. Alliance of International Aromatherapists 2017 Conference. AIA 2017 Conference Proceedings page 221-222.]
Clove Bud Essential Oil Aromatherapeutic Uses:
SYSTEMS

Clove Bud Essential Oil

Integumentary:

May assist acne, bruises, burns and cuts [ use at less than 1%- test on skin first ]

Respiratory:

Valuable for relieving bronchitis and asthma

Muscular / Skeletal:

Cardiovascular / Lymphatic:

Immune:

Digestive:

Beneficial against vomiting, diarrhoea, flatulence and spasms Used in mouth

hygiene, mouth sores, bad breath and toothache

Endocrine:

Genito-Urinary / Reproductive:

Other Uses:

Non-Aromatherapy - Used as a mould killer and mould spore killer
Source: www.essentialoils.co.za/essemtial-oils/clove.htm
Shelf Life of Clove Essential Oil:
Our freshly decanted Clove essential oil will last for 3-4 years minimum from when you open your amber glass bottle if stored correctly:
Primary Storage Considerations:
Keep away from direct light (U.V. radiation)
Keep in the amber glass bottle with lid tightly closed. Only open when you need to and decant into a smaller "working" amber glass bottle if possible (and label so you know what is in it). This is to reduce oxidation.
Secondary Storage Considerations:
Keep in a refrigerator at around 4 degrees celsius.
True to cloves, this essential oil is rich and spicy with a medium to strong aroma – helping you to maintain balance while assisting in stimulating your body and mind.
Oil of Clove may slightly be more aromatic than oils that are made from bud stems. You may feel the warming and uplifting effect of this oil and can get assistance in reducing dental pains.
The Clove Bud essential oil blend works perfectly with other spice blends like Orange, Citronella, Rosemary and Grapefruit.