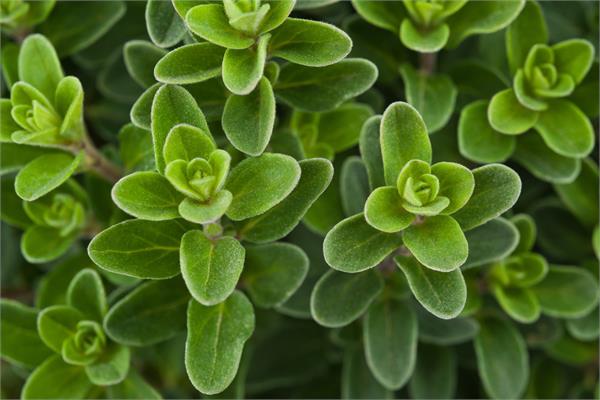 Marjoram Essential Oil, Sweet
PMAR
O. marjorana/M. hortensis (Egypt)
$12.50
Marjoram Historical Snippets:
Sweet Marjoram originated from the Mediterranean and North Africa. Its uses can be dated back to 2000 BC in Egypt. There are many legends surrounding the herb due to its representation of happiness by The Greeks and Romans. One being that the plant was given its scent by Venus, the goddess of love so the mortals would smell it and recall her beauty. There was another theory that if Marjoram was seen growing on a grave, then it symbolized the departed spirit had found happiness in the afterlife. In 1527, the herb appeared in the first ever herbal book – Banckes's Herbal. It is here that it was recognised medically as a digestive, decongestant, antispasmodic and sedater.
Description

Marjoram Oil, Sweet Safety
Marjoram Essential Oil - Sweet
(O. marjorana/M. hortensis)
Leaves & Flowers - Steam Distilled
Aromatherapeutic Uses:
Aching muscles, amenorrhea, bronchitis, chilblains, colic, coughing, excessive sex drive, flatulence, hypertension, muscle cramps, neuralgia, rheumatism, sprains, strains, stress, ticks. [Julia Lawless, The Illustrated Encyclopedia of Essential Oils (Rockport, MA: Element Books, 1995), 56-65.]
Muscle relaxant, muscular and abdominal pain, headaches, menstrual and menopausal symptoms, bruises, gastrointestinal disorders, indigestion, spasms, constipation, irritable bowel syndrome, diverticulosis, insomnia, stress, anxiety. [Valerie Ann Worwood, The Complete Book of Essential Oils and Aromatherapy, 25th Anniversary Edition (Novato, CA: New World Library, 2016, 603.]
Robbi Zeck describes Marjoram Essential Oil as: Marjoram's warm herbal aroma will strengthen your nervous system, rebuild your reserve, fortify your spirit and reduce obsessive thinking. [Robbi Zeck, ND, The Blossoming Heart: Aromatherapy for Healing and Transformation(Victoria, Australia: Aroma Tours, 2008), 96.]
Marjoram Essential Oil Aromatherapy References:
SYSTEMS

Marjoram, Sweet (Origanum majorana) Essential Oil

Integumentary:

Chilblains, ticks, aids in clearing bruises, healing wounds

Respiratory:

Coughs, dyspnea-difficult breathing, aids spasmodic coughs, asthma, whooping

cough, eases respiratory distress & infections (coryza, rhinitis, rhino pharyngitis,

sinusitis, bronchitis, otitis, coughs

Muscular / Skeletal:

Arthiritis, lumbago, muscle aches & stiffness, sprains, strains, spasms, eases pain,

neuromuscular rheumatism, rheumatoid arthritis pains

Cardiovascular / Lymphatic:

Aids hypertension (Medical Diagnosis Required), increases vaso-dilation, lowers

blood pressure, eases palpitations (MDR), irregular heartbeat (MDR)

Immune:

Colds, flu

Digestive:

Mouth ulcers, colic, constipation, dyspepsia, flatulence, digestive infections (staph,

coli bacillus), digestive problems (acidic stomach, ulcers, gastritis, colitis, diarrhea)

Endocrine:

Genito-Urinary / Reproductive:

Regulates menstrual cycle, relives painful periods, aids menstrual cycle tension &

moodiness, uterine spasms during cycle, nervous spasms, anxiety, pains, uterine

circulation stimulant, aids PMS, leucorrhea, curbs excessive sexuality, genital

hypersensitivity, erethism, aids celibacy

Nervous Brain/ Mind

Prevents blocks in sympathetic nervous system, stimulates parasympathetic

nervous system, aids neuralgia, eases headache, hyperactivity, hysteria, migraine,

stress problems, asthenia, depression, claustrophobia, epilepsy crisis, eliminates

feelings of persecution, clarifies & aids manifestation of ideas, eases oppression,

obsessions, psychosis, insomnia, vertigo, irritability, relieves deep trauma, aids

confrontation of issues, heartache, wamrs and comforts in grief, sorrow &

loneliness
Sheppard-Hanger, Sylla. The Aromatherapy Practitioner Reference Manual: Atlantic Institute of Aromatherapy, 1999. Print.
Shelf Life of Marjoram Essential Oil:
Our freshly decanted Marjoram essential oil will last for 2-3 years minimum from when you open your amber glass bottle if stored correctly:
Primary Storage Considerations:
Keep away from direct light (U.V. radiation)
Keep in the amber glass bottle with lid tightly closed. Only open when you need to and decant into a smaller "working" amber glass bottle if possible (and label so you know what is in it). This is to reduce oxidation.
Secondary Storage Considerations:
Keep in a refrigerator at around 4 degrees celsius.
Aromatically, Marjoram essential oil has a sweet pine and citrus aroma, with herbal notes gives this essential oil a majestic touch. It is known as an aphrodisiac and may help you reduce stress.
Marjoram essential oil has a tangy and delectable aroma. The aromatic yet subtle back note of citrus may give you a fresh feeling, while the aphrodisiac properties may help you relax. Is a well-known muscle relaxant.
Marjoram essential oil blends well with almost any other oil blend.