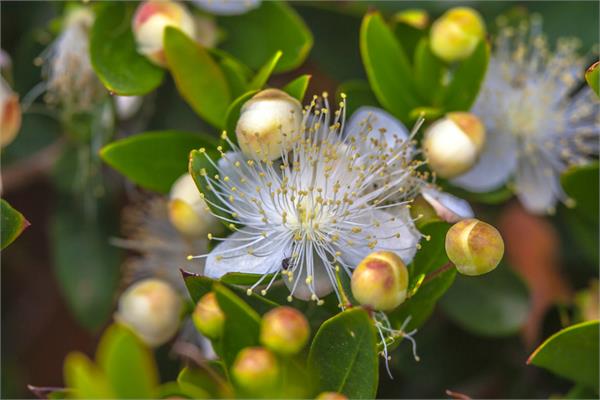 Myrtle Essential Oil
PMYRT
Myrtus communis (Morocco)
$17.40
Myrtle Historical Snippets:
Myrtle symbolised love throughout ancient Greece and Rome. It was often planted around temples, worn as crowns by Eleusinian Mystery priests and in a 16th century skin formula called "Angels Water". Myrtle was also incorporated into Greek weddings and is still today. The plants properties were described by Culpepper as "drying and binding", so it was used to treat wet conditions such as diarrhea and dysentery.
Description

Myrtle Oil Safety
Myrtle Essential Oil
(Myrtus communis)
Plant - Steam Distilled
Myrtle Essential Oil Aromatherapy References:
SYSTEMS

Myrtle (Myrtus communis) Essential Oil

Integumentary:

Oily, acne, devitalized skin, aged & wrinkled skin

Respiratory:

Bronco-pulmonary congestion, infections, bronchitis, sinusitis

Muscular / Skeletal:

Cardiovascular / Lymphatic:

Haemorrhoids, varicose veins, venous & lymphatic decongestant, lowers blood

pressure

Immune:

Immune stimulant, colds, flu

Digestive:

Intestinal colitis, spasm

Endocrine:

Genito-Urinary / Reproductive:

Womb tonic, pelvic congestion, painful menstruation

Nervous Brain/ Mind

Sedative, soothes anger, fear of illness, death, lack of composure, distraction,

materialistic yearnings
Sheppard-Hanger, Sylla. The Aromatherapy Practitioner Reference Manual: Atlantic Institute of Aromatherapy, 1999. Print.
Shelf Life of Myrtle Essential Oil:
Our freshly decanted Myrtle essential oil will last for 2-3 years minimum from when you open your amber glass bottle if stored correctly:
Primary Storage Considerations:
Keep away from direct light (U.V. radiation)
Keep in the amber glass bottle with lid tightly closed. Only open when you need to and decant into a smaller "working" amber glass bottle if possible (and label so you know what is in it). This is to reduce oxidation.
Secondary Storage Considerations:
Keep in a refrigerator at around 4 degrees celsius.
Similar to Eucalyptus, this essential oil has a fresh aroma, and was traditionally used to treat sore throats and coughs.
Our Myrtle essential oil has a clear scent, which may be slightly herbaceous. It has vulnerary, astringent and antiseptic properties that may give you a plethora of health benefits.
Blends well with Clary, Lavender, Rosemary, Tea Tree, Hyssop, Ginger and Bergamot.