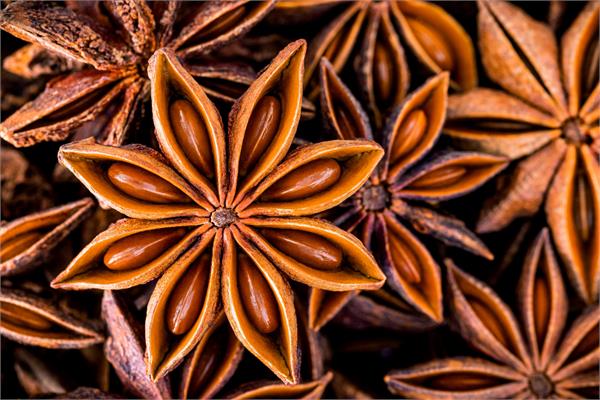 Star Anise Essential Oil
PANIC
(China Star Essential Oil)
Illicium verum (China)
$5.50
Star Anise Essential Oil Historical Snippets:
Star Anise Essential Oil has a long history in Chinese medicine. Star Anise oil is considered warm and disperses cold. It is considered warming to key organs and regulates qi. Although originating in China star anise made its way to Europe via explorer Thomas Cavendish in the late 1500's. Star anise spread through Europe via the tea trade route. It was known as Siberian cardamom.
Star Anise Essential Oil
(Illicium Verum)
Seeds - Steam Distilled
Aromatherapeutic Uses of Star Anise Essential Oil:
Rheumatism, bronchitis, coughing, colic, indigestion/cramping, colds, flu. [Julia Lawless, The Illustrated Encyclopedia of Essential Oils. (Rockport, MA: Element Books, 1995), 61-66.]
Often used as an intense pick me up.
Supportive to the digestive and respiratory systems as mentioned above.
Star Anise Essential Oil Safety:
Tisserand and Young recommend a dermal maximum of 1.75%.
General:
Some essential oils may cause photosensitivity to the skin-Use diluted in Jojoba or other complete carrier oil.
Do not ingest essential oils.
Do not apply to eyes, sensitive areas or mucous membranes.
The information on this website is not intended to be used in the diagnosis, treatment or mitigation of any physical or mental illness. Ahimsa Oils offer no advice or recommendations only general information. No therapeutic claims are made within.
Pregnant women, nursing mothers and children should not use essential oils without first consulting an appropriately trained healthcare practitioner.
The statements on this website have not been evaluated by the TGA. David Bosley however worked for a long period however in consultation with the TGA to ensure correct labelling with reference to the Ahimsa Oil product range.
Star Anise Essential Oil Key Constituents:
(E)-Anethole (current batch 87.12%)
Methyl chavicol (current batch 2.83%)
Foeniculum (current batch 2.26%)
Anisaldehyde (current batch 0.92%)
Linalool (current batch 0.79%)