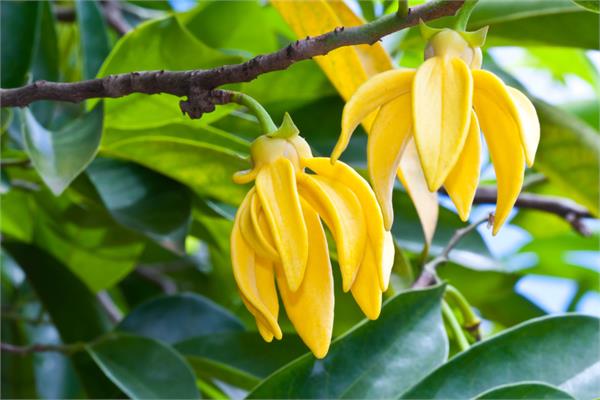 Ylang Ylang Essential Oil, Bourbon Extra
PYLA
Cananga odorata (Comoros)
$10.75
Ylang Ylang Historical Snippets:
Ylang Ylang has gone through a number of different uses throughout history. In Indonesia and the Philippines, it was placed on the bed of a newlywed couple and also burned by Muslim women to scent harems. Its medical properties were first recognized by French chemists, Garnier and Rechler at the beginning of the 20th century. They found the oil effective in treating intestinal infections, malaria and typhus. They also found it to be calming on the heart.
Description

Ylang Ylang Oil, Bourbon Extra Safety
Ylang Ylang Essential Oil - Bourbon Extra
(Cananga odorata)
Flowers - Steam Distilled
Ylang Ylang Essential Oil Aromatherapy References:
SYSTEMS

Ylang Ylang Bourbon Extra (Cananga odorata) Essential Oil

Integumentary:

Balances sebum, aids irritated, dry, oily and combination skin, acne, general

hair/skin tonic for dry scalp, hair growth promoter, insect bites, fragrance

Respiratory:

Slows fast breathing

Muscular / Skeletal:

Cardiovascular / Lymphatic:

Palpitations (tachycardia) (Medical Diagnosis Required), lowers high blood pressure

Immune:

Fevers (malaria, typhoid) (Medical Diagnosis Required)

Digestive:

Aids diabetes balance (Medical Diagnosis Required), aids intestinal infections,

diarrhea, putrid fermentations

Endocrine:

Balances hormones, stimulates thymus gland, regulates adrenal flow

Genito-Urinary / Reproductive:

Impotence, frigidity, aphrodisiac, uterus tonic, breast firmer, PMS

Nervous Brain/ Mind

Depressed, insomnia, nervous tension, stress, related pain; fear, rage, inner

coldness, anger, low self-esteem, shock, panic, relaxing to the central nervous

system
Sheppard-Hanger, Sylla. The Aromatherapy Practitioner Reference Manual: Atlantic Institute of Aromatherapy, 1999. Print.
Shelf Life of Ylang Ylang Essential Oil:
Our freshly decanted Ylang Ylang essential oil will last for 2-3 years minimum from when you open your amber glass bottle if stored correctly:
Primary Storage Considerations:
Keep away from direct light (U.V. radiation)
Keep in the amber glass bottle with lid tightly closed. Only open when you need to and decant into a smaller "working" amber glass bottle if possible (and label so you know what is in it). This is to reduce oxidation.
Secondary Storage Considerations:
Keep in a refrigerator at around 4 degrees celsius.
Considered to be a highly prized oil in the Ylang Ylang family, the astounding floral top notes may help you with relaxed breathing while reducing blood pressure.
Our Ylang Ylang Bourbon Extra has a spicy and floral scent, with richness and depth of bourbon. Apart from its sedative properties, it may also help you with sexual radiance.
Blends perfectly with Rosewood, Bergamot, Balsam, Rose, Tuberose and Cinnamon.