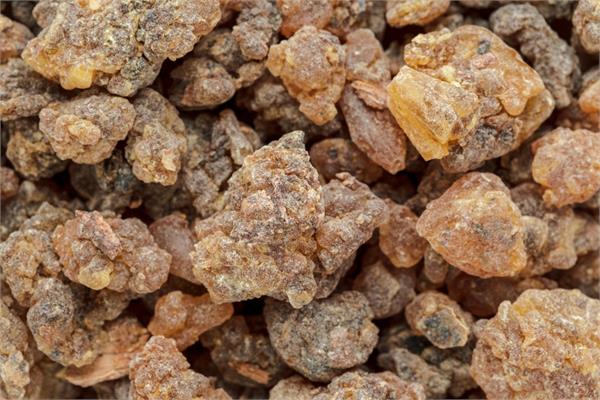 Benzoin Resinoid in Alcohol
PBENZA
Styrax benzoin (Sumatra)
$9.50
Benzoin Historical Snippets:
Initially Benzoin was used as an incense ingredient by the ancient Greeks and Romans. It was also used in ceremonies and to drive away evil spirits by the ancient Malayan culture. Between the 15th and 16th centuries it was brought over to England where the powder was used to make dry perfumes. It was even worn by Queen Elizabeth I. As time moved forward, exploration and experimentation between perfume and medicine began. This is where Benzoin took on a therapeutic role, in addition to its role in natural perfumery.
Description

Benzoin Resinoid Safety
Benzoin
(Styrax benzoin)
Resin - Solvent
Benzoin Resinoid in Alcohol
Aromatherapeutic Uses:
Arthritis, bronchitis, chapped skin, coughing, laryngitis, stress. [Julia Lawless, The Illustrated Encyclopedia of Essential Oils (Rockport, MA: Element Books, 1995), 56-67.]
A beautiful sweet, vanilla-like resinoid. Derived by placing small chunks of Siam resin (Styrax benzoin) in perfumers grade ethanol until saturation point is found. This resinoid may then be added to perfumers ethanol to make a perfume base for your creations. It denatures the alcohol and adds fixative qualities as well as possible preservative actions.
May also be used for benzoin steam inhalation and sinus issues. Some people also use for application to blisters.
Shelf Life of Absolutes, Resins & Resinoids
Our freshly decanted Absolutes, Resins & Resinoids will last for 3-4 years minimum from when you open your amber glass bottle if stored correctly:
Primary Storage Considerations:
Keep away from direct light (U.V. radiation)
Keep in the amber glass bottle with lid tightly closed. Only open when you need to and decant into a smaller "working" amber glass bottle if possible (and label so you know what is in it). This is to reduce oxidation.
Secondary Storage Considerations:
Keep in a refrigerator at around 4 degrees celsius.