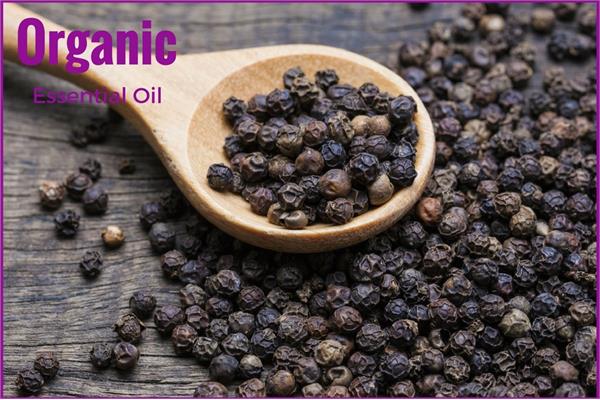 Organic Black Pepper Essential Oil
OPEPB
Piper nigrum (India)
$17.90
Black Pepper Historical Use:
Black Pepper has had wars fought over it and it has been more valuable than the precious metal silver. The Egyptians placed it in their loved ones nasal passage during embalming. Romans demanded black pepper as ransom. What a valuable treasure.
Description

Organic Black Pepper Oil Safety
Organic Black Pepper Essential Oil
(Piper nigrum)
Organic Whole Berries - Steam Distilled
Black pepper oil is a sharp and spicy oil is known for its physical and emotional benefits, and may provide you with several assistances through its therapeutic properties.
Black pepper oil has a spicy and strong aroma that has a faint back note of clove. This oil is known to relieve pain, support the immune system and may help you stay stress-free with its uplifting properties.
Organic Black Pepper Aromatherapy References
SYSTEMS

Organic Black Pepper Essential Oil

Integumentary:

Chilblains, bruises, cuts, wounds, dermatosis

Respiratory:

Catarrh, chronic bronchitis, laryngitis, tonsillitis, warms chill, cold feeling

Muscular / Skeletal:

Arthritis, muscle aches & pains, neuralgia, poor muscle tone, temporary paralysis,

stiffness, rheumatism, tones muscles before sports, sprains

Cardiovascular / Lymphatic:

Increases circulation (dilates local blood flow)

Immune:

Cold, flu, infections, viruses, may lower temperature

Digestive:

Toothache, tonsillitis, antidote to fish & mushroom poisoning, increases saliva,

stimulates liver-pancreas, stimulates appetite, colic, constipation, diarrhea,

flatulence, heartburn, nausea, vomiting, restores colon tone

Endocrine:

Genito-Urinary / Reproductive:

Frigidity, impotence, stimulates kidney & urinary system, increases urine flow, aids

detoxification, for uro-genital discharges

Nervous Brain/ Mind

Mental stimulant, aids alertness, stamina, warms to indifference, eases life changes
Sheppard-Hanger, Sylla. The Aromatherapy Practitioner Reference Manual: Atlantic Institute of Aromatherapy, 1999. Print.
Shelf Life of Black Pepper Essential Oil:
Our freshly decanted black pepper essential oil will last for 2 to 3 years minimum from when you open your amber glass bottle if stored correctly:
Primary Storage Considerations:
Keep away from direct light (U.V. radiation)
Keep in the amber glass bottle with lid tightly closed. Only open when you need to and decant into a smaller "working" amber glass bottle if possible (and label so you know what is in it). This is to reduce oxidation.
Secondary Storage Considerations:
Keep in a refrigerator at around 4 degrees celsius.
Facts About Black Pepper Oil
Black pepper oil comes from the fruit on a vine often 4 metres high.
Although native to Southern India the country of Vietnam is now the largest producer.
Also used in high quality natural perfumes.
How To Use Black Pepper Oil
Topically:
Diluted in a carrier oil and applied to skin-usually 2% Black Pepper Oil.
Diluted as above in a massage oil carrier blend and used for a relaxing post exercise massage.
Aromatically:
Diffuse to increase focus. Use 4 to 6 drops.
Tissue or Cotton Ball Method: 4 drops on a tissue near where you are (ie. Studying or office etc.)
Direct Palm Inhalation: Place 1 to 2 drops on your palms and cup near nose to enjoy. May be beneficial if trying to kick the smoking habit or increasing inner strength.
What Blends Well With Black Pepper?
Clove, Bergamot, Ginger, Lavender, Lemon, Mandarin, Clary Sage, Fennel, Geranium, Grapefruit and Sandalwood.
Black Pepper Main Constituents:
a-thujone, a-pinene, camphene, sabinene, b-pinene, a-phellandrene, myrcene, limonene, caryophyllene, b-farnesene, b-bisabolene, linalool and terpinen-4-ol.