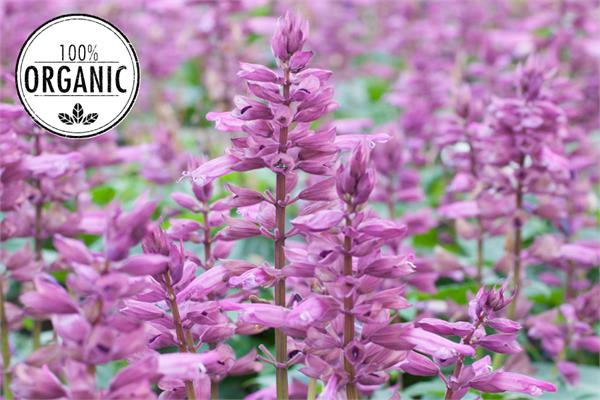 Organic Clary Sage Essential Oil
OCLA
Salvia sclarea (France)
$19.80
Clary Sage- History:
The Romans used Clary Sage as an eyewash and the sclarea in the Latin botanical name is linked to the Roman claurus which translates to clear. Due to Germans adding to wine Clary Sage is also known as Muscatel Sage. Historically used as an aphrodisiac and also in beer making and tobacco.
Description

Aromatherapy References

Organic Clary Sage Oil Safety
Organic Clary Sage Essential Oil
(Salvia sclarea)
Organic Leaves & Flowers - Steam Distilled
Loved for its calming influence on the nerves and a sedating effect on emotions – this exotic essential oil has been known to elevate 'relaxation' of the body, mind and heart.
Clary Sage oil has a hint of herb, and a strong nutty fragrance that lingers on between sweet and spicy – A strong bouquet of aroma which also has therapeutic properties. This essential oil may assist your nervous system by reducing stress and depression and may assist with skin conditions, female functions and painful muscles and joints.
Facts About Clary Sage Oil
Clary sage essential oil with its ester backbone is milder than its cousin Sage with its ketone backbone.
Add clary sage to lavender and add a drop of valerian oil and you have a love potion, worth a try I guess! Clary sage oil was originally produced as a natural perfume ingredient so it may not be a stretch.
How To Use Clary Sage Oil?
Topically:
Diluted in a carrier oil and applied to skin around your belly-usually less than 3% clary sage oil may help during your menstrual cycle
At a drop or two to a warm bath to relax you.
Aromatically:
Diffuse at night time to aid sleep-only 4 or 5 drops is needed.
Tissue or Cotton Ball Method: 2 drops on a tissue near your pillow.

Direct Palm Inhalation: Place 2 drops on your palms and cup near nose to enjoy. Said to settle and enhance a positive outlook.
Ayurvedic Use Of Clary Sage:
In an Ayurvedic sense clary sage is used to augment the mind, body and spirit.
What Blends Well With Clary Sage?
Juniper, lavender, coriander, geranium, sandalwood, cedarwood, pine, labdanum, jasmine, frankincense, bergamot
Clary Sage- Main Constituents:
linalyl acetate, linalool, alpha-pinene, myrcene, saponine and phellandrene.
Possible Substitutions From Our Range?
Clary Sage Essential Oil from France is just as special as our organic version.