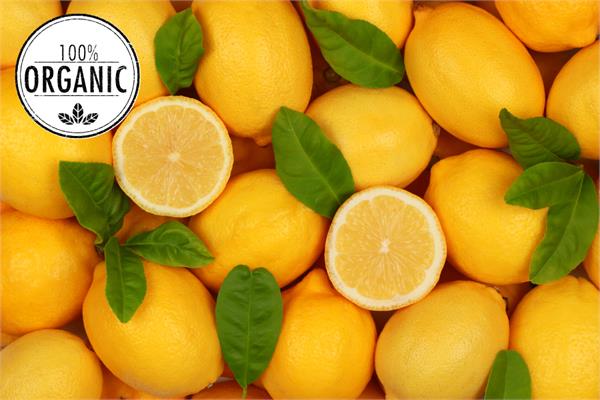 Organic Lemon Essential Oil
OLEM
Citrus limonum (Australia)
$9.40
Lemon Historical Snippets:
Lemon oil may arguably be one of the most versatile essential oils. Having been used in foods, skincare, perfumery, cleaning products and for health. Lemons date as far back as to 90 BC, where they were first mentioned in Jerusalem. In 1747, a study by Scottish physician James Lind showed that the citrus of two oranges and a lemon treated seamen suffering from scurvy. Maude Grieve dubbed lemons as the most valuable fruit for preserving one's health. Since this, scientific studies have emerged proving that the oil may be even more beneficial than the fruit.
Description

Organic Lemon Safety
Organic Lemon Essential Oil
(Citrus limonum)
​Organic Whole Peel-Cold Pressed
Loved for its concentrated and fresh aroma, this essential oil has excellent cleansing properties which can be a delight for your skin.
Organic Lemon Essential Oil has a tangy-lemon aroma with clarifying, cleansing, and cooling properties. It also has healing properties that may help you with treating boils and cuts.
Our Lemon essential oil blends well with almost every other oil blend.
Organic Lemon Aromatherapy References:
SYSTEMS

Lemon, Cold Pressed (Citrus limonum) Essential Oil

Integumentary:

Mouth ulcers, herpes (Medical Diagnosis Required), cellulite, acne, boils, corns,

warts, oily, couperose, dry skin, thin hair & nails, shines hair & increases growth,

strengthens epidermis function, aids epidermal circulation, gland stimulation &

purification, tightens blood vessels, stimulates connective tissue, protects against

infection, aids development of acid mantle, lightens skin pigments (Caution: irritant,

phototoxic. Avoid use on sensitive or damaged skin)

Respiratory:

Asthma, sore throat, bronchitis, catarrhal, sinus infections, all respiratory infections –

diffusion, inhalation best

Muscular / Skeletal:

Arthritis, tightens smooth muscles, strengthens connective tissue

Cardiovascular / Lymphatic:

Poor circulation, aids nose bleeds, tightens smooth muscles of veins, vessels, thins

blood (Medical Diagnosis Required), useful for phlebitis (MDR), couperose, varicose

veins, thrombosis (MDR), arteriosclerosis (MDR)

Immune:

Cold, flu, fever, contagious infections, congestion, clears airborne bacteria, excellent

for local disinfection

Digestive:

Dyspepsia, constipation, detoxification, obesity, liver cleanser & stimulant, pancreas

stimulant, counters anaemia (Medical Diagnosis Required), balances stomach acidity,

stimulates gland secretion & all alimentary canal smooth muscles (pancreas,

gallbladder, stomach)

Endocrine:

Endocrine stimulant

Genito-Urinary / Reproductive:

Induces labour when overdue, stimulates vasopressin release, causes vaso

constricting effect on kidneys & reduced urine excretion, aids nephritis colic

(Medical Diagnosis Required), stimulates all gland secretion & smooth muscles

(uterus, fallopian tube), aids candida infections (thrush)

Nervous Brain/ Mind

Stimulant to brain, all sense organs & parasympathetic nervous system, clears

thought, aids concentration, promotes spiritual & psychic awareness, promotes

connection between spirit & soul, use for conflict in thoughts & intellect; cooling and

calming
Sheppard-Hanger, Sylla. The Aromatherapy Practitioner Reference Manual: Atlantic Institute of Aromatherapy, 1999. Print.
Shelf Life of Lemon Essential Oil:
Our freshly decanted Lemon essential oil will last for 1-2 years minimum from when you open your amber glass bottle if stored correctly:
Primary Storage Considerations:
Keep away from direct light (U.V. radiation)
Keep in the amber glass bottle with lid tightly closed. Only open when you need to and decant into a smaller "working" amber glass bottle if possible (and label so you know what is in it). This is to reduce oxidation.
Secondary Storage Considerations:
Keep in a refrigerator at around 4 degrees celsius.