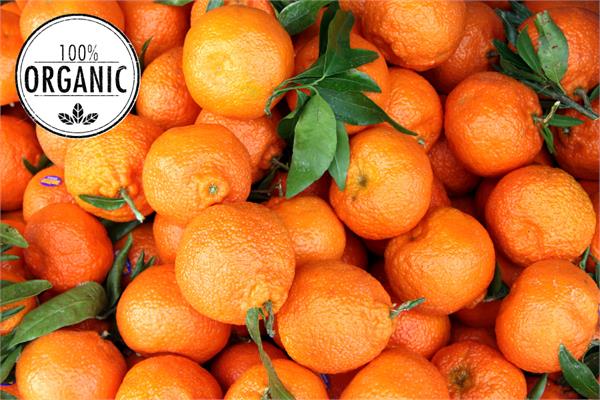 Organic Mandarin Essential Oil
OMAN
Citrus nobilis/deliciosa (Italy)
$8.80
Mandarin Historical Snippets:
Originating from ancient China, Mandarin was once considered a highly-prized fruit reserved for only the emperor. Now days, although they're a popular citrus fruit grown all over the world, the Chinese still consider them to be valuable in the fact that they bring good fortune and prosperity in the coming year after Chinese New Year.
Description

Organic Mandarin Oil - Australian Safety
Organic Mandarin Essential Oil
(Citrus nobilis/deliciosa)
​Organic Whole Peel-Cold Pressed
Cherished for its sweet and intense aroma, this exotic essential oil may help you reduce anxiety and can be used as flavouring.
Organic Mandarin essential oil has a delicious and sweet aroma. This oil is known for acting as a support for liver function, it may reduce stress and anxiety and can be used as a 'warming' massage oil, bringing happiness and joy.
Blends well with other Citrus and Spice oil blends.
Organic Mandarin Aromatherapy References:
SYSTEMS

Mandarin, Cold Pressed (Citrus nobilis/deliciosa) Essential Oil

Integumentary:

Skin otner, acne, congested, oily & combination skin, moisturizing, softening dry skin,

scars, stretch marks

Respiratory:

Difficulty in breathing

Muscular / Skeletal:

Muscle spasms

Cardiovascular / Lymphatic:

Aids cardiovascular erethism, increases lymphatic circulation, aids detoxification

Immune:

Immuno stimulant

Digestive:

Indigestion, gastritis, dyspepsia, aerophagy, hiccups, constipation, intestinal

problems

Endocrine:

Genito-Urinary / Reproductive:

Aids edema, PMS, menstrual cramps

Nervous Brain/ Mind

Aids sensitivities, calms excitations, insomnia – especially nervous origin, tension,

nervousness, restlessness, signifies inner child, aids in getting a 'handle' on routines,

favourite of children
Sheppard-Hanger, Sylla. The Aromatherapy Practitioner Reference Manual: Atlantic Institute of Aromatherapy, 1999. Print.
Shelf Life of Mandarin Essential Oil:
Our freshly decanted Mandarin essential oil will last for 1-2 years minimum from when you open your amber glass bottle if stored correctly:
Primary Storage Considerations:
Keep away from direct light (U.V. radiation)
Keep in the amber glass bottle with lid tightly closed. Only open when you need to and decant into a smaller "working" amber glass bottle if possible (and label so you know what is in it). This is to reduce oxidation.
Secondary Storage Considerations:
Keep in a refrigerator at around 4 degrees celsius.