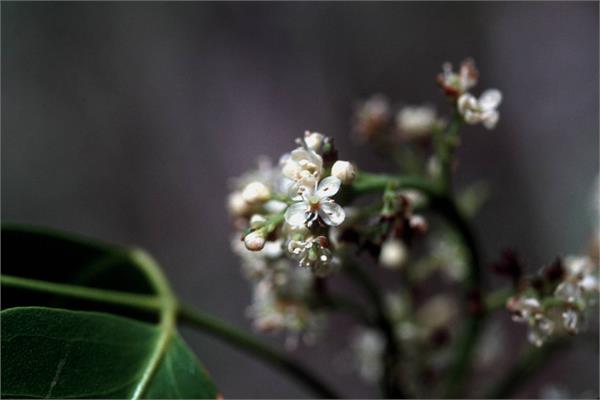 Amyris Essential Oil
PAMYR
Amyris balsamifera (Haiti)
$10.60
Amyris Historical Snippets:
Amyris essential oil almost exclusively is from Haiti. The Haitian people name the tree "Bois Chandelle" which translates as Candle Wood. The high oil content within the branches lends itself for use as a lit torch at night. Most amyris wood is grown high in the mountains and the indigenous farmers put extreme physical effort in to bring the harvested branches back down to the distilleries for oil production.
Amyris Essential Oil
(Amyris balsamifera)
Wood & Branches - Steam Distilled
Amyris Essential Oil Aromatherapeutic & Other Uses:
SYSTEMS

Amyris Essential Oil

Integumentary:

Respiratory:

Soothes coughs, bronchitis

Muscular / Skeletal:

Reduces muscle pain, swellings

Cardiovascular / Lymphatic:

Lowers blood pressure, heart tonic, varicosites, hemorrhoids, cardiac fatigue, aids

lymphatic & venous circulation, congestion

Immune:

Digestive:

Endocrine:

Genito-Urinary / Reproductive:

Impotence, frigidity

Nervous Brain/ Mind:

Relaxant, eases tension, stress, insomnia
Sheppard-Hanger, Sylla. The Aromatherapy Practitioner Reference Manual: Atlantic Institute of Aromatherapy, 1999. Print.
Perfumery / Fragrancing. Acts as a fixative. Also possesses antiseptic and sedative properties. [Julia Lawless, The Illustrated Encyclopedia of Essential Oils (Rockport, MA: Element Books, 1995), 82.]
West Indian Sandalwood or Amyris essential oil has a soft sandalwood type aroma but without the complexity and tenacity of true sandalwood essential oils. Some think of benzoin also when profiling the odour. Some love adding a small amount of amyris to their skin moisturiser when making their own products. In addition, Amyris may help with sleep blends when diffused at bedtime.
Amyris blends well with all cedarwoods, jasmine absolute, Lavandin, Lemon and Sweet Orange.
Amyris Essential Oil Safety:
Tisserand and Young indicate no known hazards or contraindications.
General Essential Oil Safety:
Some essential oils may cause photosensitivity to the skin-Use diluted in Jojoba or other complete carrier oil.
Do not ingest essential oils.
Do not apply to eyes, sensitive areas or mucous membranes.
The information on this website is not intended to be used in the diagnosis, treatment or mitigation of any physical or mental illness. Ahimsa Oils offer no advice or recommendations only general information. No therapeutic claims are made within.
Pregnant women, nursing mothers, epileptics and people with extremes in blood pressure as well as children should not use essential oils without first consulting an appropriately trained healthcare practitioner.
The statements on this website have not been evaluated by the TGA. David Bosley however worked for a long period however in consultation with the TGA to ensure correct labelling with reference to the Ahimsa Oil product range.
Amyris Essential Oil Key Constituents:
Below constituent ranges comprise 68% of the data within the normal distribution curve.
Growing conditions, geographic regional variation or plant chemotype can change constituent levels or constituents themselves.
Valerianol 15.1–21.5%
a-Eudesmol 4.4–16.2%
7-epi-a-Eudesmol 0–10.7%
10-epi-g-Eudesmol 5.3–9.7%
Elemol 6.6–9.1%
b-Sesquiphellandrene 1.5–8.6%
g-Eudesmol 6.6–8.0%
b-Eudesmol 3.2–7.9%
a-Zingiberene 0–5.2%
Amorpha-4,11-diene 0–3.5%
Drimenol 1.1–3.3%
ar-Curcumene 1.3–2.5%
Selina-3,7(11)-diene 1.3–2.5%
g-Curcumene 0–2.3%
Cadina-4,11-diene 0–1.5%
b-Dihydroagarofuran 0.2–1.3%
a-Agarofuran 0.3–1.2%
(E)-Nerolidol 0.4–1.1%
a-Acoradiene 0–1.0%
(Source: Tisserand & Young. Essential Oil Safety, A Guide For Health Care Professionals: Second Edition 2013)