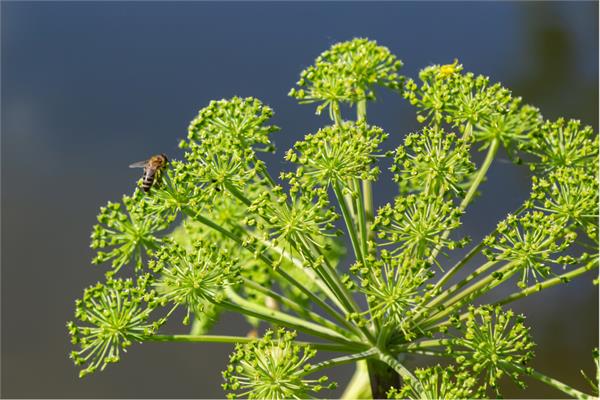 Angelica Root Essential Oil
PANG
Angelica archangelica (France)
$14.50
Angelica Root Essential Oil History:
Angelica Root Essential Oil has a legend tied to it that an angel manifested itself to a monk and foretold him that Angelica would cure the plague! Paracelsus even referred to Angelica as "marvellous medicine". Angelica is able to survive in cold countries and at times people of Iceland have used it as a life saving food. The Danes even marketed candied Angelica which has been used for fortifying the stomach and aiding flatulence.
Description

Resources

Angelica Root Oil Safety
Angelica Root Essential Oil
(Angelica archangelica)
Roots - Steam Distilled
Angelica Root Essential Oil Aromatherapeutic Uses:
Dull skin, exhaustion, gout, psoriasis, toxin build-up, water retention. [Julia Lawless, The Illustrated Encyclopedia of Essential Oils (Rockport, MA: Element Books, 1995), 57-67.]
Angelica Root, also known as Archangel Root oil, Oil of Angels, Holy Ghost oil and Holy Spirit Root oil, has many therapeutic properties. Its carminative aspects make it a great addition to aiding digestive issues. This essential oil may help rebuild ones physical and emotional strength after suffering any condition that depletes the body. It's warming and balancing, gives strength, protection and perseverance, may aid insomnia and help with grief. Harmonising for the human energy field.
Angelica Root oil has an herbaceous and peppery aroma with slight fruity and spicy top notes.
Angelica Root essential oil blends nicely with Vetiver, Clary Sage and Citrus oils.
Why Angelica Root essential oil and not Angelica Seed essential oil?
I have written a more detailed explanation in our News & Blog section. Angelica Root essential oil is much more therapeutic than the seed derived oil. As mentioned please read the article for more details.
PLEASE REMEMBER: All our exotic and rare (hence more costly) essential oils and absolutes are available in jojoba. This allows you the benefit of enjoying Angelica Root Essential Oil but in a jojoba oil base at a great price. An extremely cost effective way to experience essential oils and absolutes!