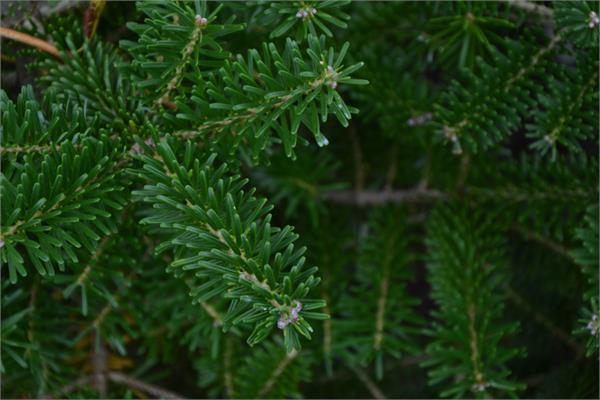 Balsam Fir Essential Oil
PBFIR
Abies balsamea (Canada)
$9.65
Balsam Fir Historical Snippets:
Balsam Fir Essential Oil has a long history of use in the Americas by the indigenous inhabitants. Balsam Fir Oil has been used on burns and cuts. Salves and poultices were used on the thoracic front and back to help with colds and chest conditions. Even tea was infused with Balsam Fir sap to treat lung ailments. Steam inhalation of Balsam Fir gum was also used to treat headaches. Balsam Fir branches made into a paste was then steamed to aid childbirth.
Description

Balsam Fir Oil Safety
Balsam Fir Essential Oil
(Abies balsamea)
Needles - Steam Distilled
Aromatherapeutic Uses:
Anti-Inflammatory, antirheumatic, immune-supportive, respiratory supportive, removes excess mucous, decongestant, analgesic (pain relief), relieves bone pain, antimicrobial, antifungal, antispasmodic, supportive of endocrine and thyroid function, eases cough, wound healing, anxiolytic (reduces anxiety), relaxing, grounding, warming, emotionally stabilising, uplifting, corrects negative emotions, aids concentration and meditation.
Source: Johnson, Dr. Scott A. Evidenced-Based Essential Oil Therapy, 2015 P.52.
Balsam Fir Essential Oil Aromatherapy References:
| | |
| --- | --- |
| SYSTEMS | Balsam Fir Essential Oil |
| Skin: | Burns, cuts, wounds |
| Respiratory: | Bronchitis, sore throat, sinusitis, chills, rhinitis, catarrh, shortness of breath, asthma |
| Muscular / Skeletal: | Arthritis, muscle aches & pains, rheumatism |
| Cardiovascular / Lymphatic: | Hemorrhoids |
| Immune: | Colds, fever, chills, flu |
| Digestive: | Aerophagia, intestinal parasites |
| Endocrine: | |
| Genito-Urinary / Reproductive: | Urinary antiseptic, cystitis & other urinary bacterial infections |
| Nervous Brain/ Mind: | Tonic effect on Central Nervous System, elevating, warming and grounding on mind |
Sheppard-Hanger, Sylla. The Aromatherapy Practitioner Reference Manual: Atlantic Institute of Aromatherapy, 1999. Print.
Balsam Fir Essential Oil Key Constituents:
beta-Pinene 29.62%
alpha-Pinene 15.96%
Limonene 13.09%
Bornyl acetate 13.01%
delta-3-carene 10.68%
camphene 7.01%
myrcene 1.61%
santene 1.52%
terpinolene 1.30%
Balsam Fir essential oil is largely used for its disinfecting properties. For this reason it's used frequently in diffusers during the Winter months to cleanse the air, especially in enclosed spaces.
Balsam Fir needle oil contains a fresh, evergreen aroma with soft balsamic notes.
Balsam Fir essential oil blends wonderfully with Myrtle, Caraway and Cedarwood.