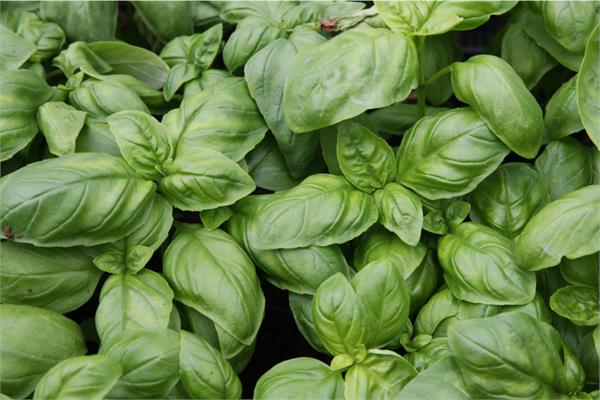 Basil Essential Oil, Sweet (Linalool Chemotype)
PBAS
Higher quality than Chavicol chemotype
Ocimum basilicum (Nepal)
$14.00
Basil Essential Oil Historical Snippets:
Basil Essential Oil has a long history of religious meaning for the Hindus, Ancient Greeks and Egyptians. It is believed to have been discovered growing on the original cross of Christ by Empress Helena. Medically, it was administered as a juice or tea to treat colds, coughs, diarrhea, gastric conditions, headaches, poisoning, inflammation and vomiting to name a few.
Description

Basil, Sweet Oil (Linalool CT) Safety
Basil Essential Oil - Sweet
(Ocimum basilicum)
Leaves & flowers - Steam Distilled
BUYER BEWARE: MOST COMPANIES OFFER THE MUCH CHEAPER MUCH LESS THERAPEUTIC CHAVICOL CHEMOTYPE! This Basil Linalool chemotype essential oil is also known as Basil Grand Verte essential oil.
Aromatherapeutic Uses:
Bronchitis, colds, coughs, exhaustion, flatulence, flu, gout, insect bites, insect repellent, muscle aches, rheumatism, sinusitis. [Julia Lawless, The Illustrated Encyclopedia of Essential Oils (Rockport, MA: Element Books, 1995), 58-67.]
Shelf Life of Sweet Basil Essential Oil:
Our freshly decanted Sweet Basil essential oil will last for 2-3 years minimum from when you open your amber glass bottle if stored correctly:
Primary Storage Considerations:
Keep away from direct light (U.V. radiation)
Keep in the amber glass bottle with lid tightly closed. Only open when you need to and decant into a smaller "working" amber glass bottle if possible (and label so you know what is in it). This is to reduce oxidation.
Secondary Storage Considerations:
Keep in a refrigerator at around 4 degrees celsius.
A sweet, peppery, warm, anise-like essential oil. Sweet Basil (Linalool chemotype) contains low methyl-chavicol, a potent phenolic-ether. Essential oils high in phenols may be toxic to the liver and a possible irritant to mucous membranes.
Essential oil of Sweet Basil possesses some fantastic properties. The combination of a higher linalool ( alcohol type) and smaller levels of methyl-chavicol (phenol / phenolic ethers) gives the best of both worlds: anti-microbial, nervous and immune system stimulant activity combined with the uplifting and balancing properties.
The anti-spasmodic properties of the phenolic-ethers are important also in relation to certain digestive and respiratory conditions and it may benefit them also.