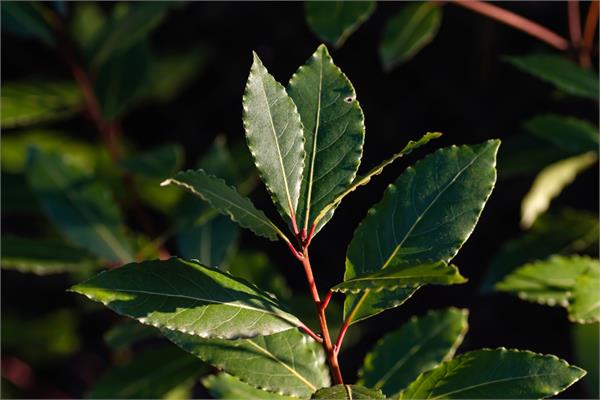 Bay Laurel Essential Oil
PBAYM
Laurus nobilis (Morocco)
$19.80
Bay Laurel Historical Snippets:
When looking through the Greek and Roman history, you will see Bay Laurel being used quite a lot, especially on heroes and poets. This is because Bay Laurel is what the crowns and wreaths were made up of. There was also a common belief that the Bay Laurel tree had prophecy and divination powers. Therefore, the ancient Greeks and Romans would take shelter under the tree during thunder and lightning storms. Bay Laurel Oil historically has been used for colic, indigestion, fatigue, hysteria and to promote menstruation.
Description

Bay Laurel Leaf Oil Safety
Bay Laurel Essential Oil
(Laurus nobilis)
Leaves - Steam Distilled
Aromatherapeutic Uses:
Amenorrhea, colds, flu, loss of appetite, tonsillitis. [Julia Lawless, The Illustrated Encyclopedia of Essential Oils (Rockport, MA: Element Books, 1995), 63-66.]
Shelf Life of Bay Laurel Essential Oil:
Our freshly decanted Bay Laurel essential oil will last for 2-3 years minimum from when you open your amber glass bottle if stored correctly:
Primary Storage Considerations:
Keep away from direct light (U.V. radiation)
Keep in the amber glass bottle with lid tightly closed. Only open when you need to and decant into a smaller "working" amber glass bottle if possible (and label so you know what is in it). This is to reduce oxidation.
Secondary Storage Considerations:
Keep in a refrigerator at around 4 degrees celsius.
A wonderful calming, grounding, camphorous and spicy oil not to be confused with the other bay (rum) essential oil. May assist with promoting confidence and for helping maintain focus in challenging situations. Dr. Kurt Schnaubelt mentions bay laurel oil will reduce swollen lymph nodes if applied to the nodes ( use jojoba oil to dilute ). Therefore it may have positive effects on the lymphatic system. Bay laurel oil is also known to support a healthy respiratory system. Please use this relaxing and balancing oil either by directly inhaling or diffusing or diluting for skin application using jojoba or other carrier oil.