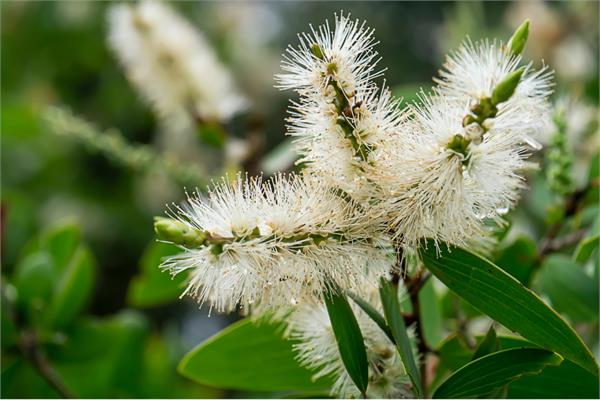 Cajeput Essential Oil
PCAJ
Melaleuca cajuputii (Australia)
$6.90
Cajeput Historical Snippets:
Australia, Malaysia and Indonesia host the location of this beautiful tree. Its exotic white flowers produce such an enticing aroma that it attracts honey bees. Interestingly the Cajeput tree is resistant to forest fires which is most likely one of the reasons why they have such long lives. Therapeutically the aborigines would use the crushed leaves rubbed into the skin to relieve aches and pains, and smell them to help cure a headache.
Description

Cajuput Oil Safety
Cajeput Essential Oil
(Melaleuca cajuputii)
Leaves - Steam Distilled
Aromatherapeutic Uses:
Asthma, bronchitis, coughs, muscle aches, oily skin, rheumatism, sinusitis, sore throat, spots. [Julia Lawless. The Illustrated Encyclopedia of Essential Oils (Rockport, Massachusetts: Element Books, 1995), 58-63.]
Cajeput Essential Oil Aromatherapy References:
SYSTEMS

Cajeput (Cajuput) Essential Oil

Integumentary:

Insect bites, oily skin, blemishes, acne, psoriasis, pityriasis, protects radiation burns

Respiratory:

Asthma, bronchitis, coughs, sinusitis, sore throat, aids catarrh infections

Muscular / Skeletal:

Arthritis, rheumatoid arthritis and gout pains

Cardiovascular / Lymphatic:

Varicose veins, hemorrhoids

Immune:

Colds , flu

Digestive:

Colic, intestinal inflammation, diarrhoea, nervous nausea, vomiting, dysentery,

enteritis, amoebic infections

Endocrine:

Genito-Urinary / Reproductive:

Cystitus, urethritis, urinary infection, period pain, menopause problems

Nervous Brain/ Mind:

Neuralgia, stimulant, clears thought
Sheppard-Hanger, Sylla. The Aromatherapy Practitioner Reference Manual: Atlantic Institute of Aromatherapy, 1999. Print.
Shelf Life of Cajuput Oil:
Our freshly decanted Cajuput essential oil will last for 2-3 years minimum from when you open your amber glass bottle if stored correctly:
Primary Storage Considerations:
Keep away from direct light (U.V. radiation)
Keep in the amber glass bottle with lid tightly closed. Only open when you need to and decant into a smaller "working" amber glass bottle if possible (and label so you know what is in it). This is to reduce oxidation.
Secondary Storage Considerations:
Keep in a refrigerator at around 4 degrees celsius.
Cajeput essential oil (also cajuput oil) has a camphorous, fruity scent and is popular for its assortment of health benefits that sooth the mind and body.
Cajeput oil is warm and sweet – with a spicy aroma, that indulges relaxation and can assist in releasing both emotional and physical tension. A high quality product, which is known for its healing ability, our Cajeput oil can be blended effectively with lavender, thyme oil, bergamot, eucalyptus, angelica, geranium and clove.
Please enjoy this relative of the tea tree.