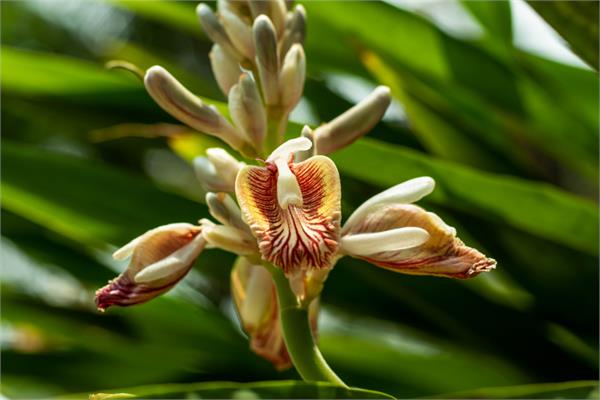 Cardamom Essential Oil
PCARD
Elettaria cardamomum (India)
$8.00
Cardamom Historical Snippets:
Cardamom has been mentioned in Indian texts dating back to the 4th century B.C. Its various therapeutic uses have led it to be carved in Charaka Samhita, the Ayurvedic encyclopedia. The medical uses of the seed throughout cultures has been varied. Chinese medicine used the seed for many different digestive and gastrointestinal disorders while Arabic medicine used it as an aphrodisiac and mood enhancer. An interesting fact about Cardamom is its ability to detoxify the caffeine in coffee.
Description

Cardamom Oil Safety
Cardamom Essential Oil
(Elettaria cardamomum)
Seeds - Steam Distilled
Aromatherapeutic Uses:
Appetite (loss of), colic, fatigue, halitosis, stress. [Julia Lawless, The Illustrated Encyclopedia of Essential Oils (Rockport, Massachusetts: Element Books, 1995), 63-67.]
A number of sources also acknowledge that Cardamom essential oil acts as an expectorant.
Cardamom Essential Oil Aromatherapy References:
SYSTEMS

Cardamom (Elettaria cardamomum) Essential Oil

Integumentary:

Respiratory:

Eases coughs, congestion, bronchitis, chills – warms the body, aids all pulmonary

infections

Muscular / Skeletal:

Cardiovascular / Lymphatic:

Immune:

Digestive:

Anorexia (Medical Diagnosis Required), colic, cramp, gas, halitosis, heartburn,

indigestion, nausea, vomiting, aids nervous dyspepsia, dysentery, diarrhea, intestinal parasites

Endocrine:

Genito-Urinary / Reproductive:

Aphrodisiac, induces menstruation however, used to ease pregnancy or travel

nausea, PMS symptoms

Nervous Brain/ Mind

Mental fatigue, nervous strain, warming, uplifting, refreshing, invigorating
Sheppard-Hanger, Sylla. The Aromatherapy Practitioner Reference Manual: Atlantic Institute of Aromatherapy, 1999. Print.
Shelf Life of Cardamon Essential Oil:
Our freshly decanted Cardamon essential oil will last for 2-3 years minimum from when you open your amber glass bottle if stored correctly:
Primary Storage Considerations:
Keep away from direct light (U.V. radiation)
Keep in the amber glass bottle with lid tightly closed. Only open when you need to and decant into a smaller "working" amber glass bottle if possible (and label so you know what is in it). This is to reduce oxidation.
Secondary Storage Considerations:
Keep in a refrigerator at around 4 degrees celsius.
Cardamom essential oil is a strong, spicy and intriguing essential oil. An exotic, expensive spice grown in several continents around the world.
Substantially calming to the stomach and digestive system in general and was also used as far back as Roman times to do so. Emotionally described as an energising oil.
Cardamom essential oil blends well with Citrus oils and Cedarwood Virginian, Cinnamon and Cloves as a middle note in your blend.
PLEASE REMEMBER: All our exotic and rare (hence more costly) essential oils and absolutes are available in jojoba. This allows you the benefit of enjoying Cardamom Oil but in a jojoba oil base at a great price. An extremely cost effective way to experience essential oils and absolutes!