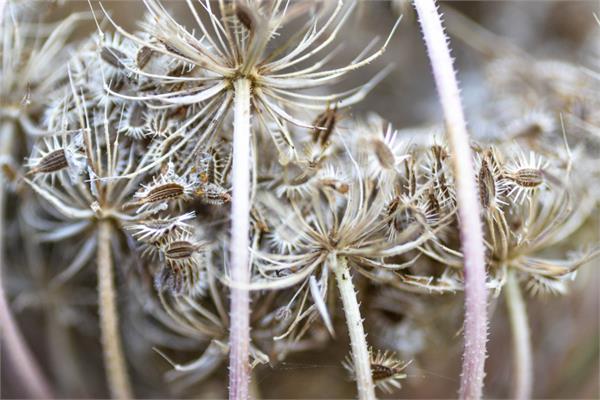 Carrot Seed Essential Oil
PCAR
Daucus carota - seed (Hungary)
$14.90
Carrot Seed Historical Snippets:
Having believed to of originated from Afghanistan and Iran, carrots were primarily grown for their seeds and leaves. It wasn't until later on that they were to be considered a food source. Traditionally carrot seed has been used to treat digestive problems and to expel parasites.
Description

Carrot Seed Oil Safety
Carrot Seed Essential Oil
(Daucus carota)
Seeds - Steam Distilled
Aromatherapeutic Uses:
Eczema, gout, mature skin, toxin build-up, water retention. [Julia Lawless, The Illustrated Encyclopedia of Essential Oils (Rockport, Massachusetts: Element Books, 1995), 57-60.]
Carrot Seed Essential Oil Aromatherapy References:
| | |
| --- | --- |
| SYSTEMS | Carrot Seed Essential Oil |
| Integumentary: | Eczema, boils, cuperose, callouses, mature skin |
| Respiratory: | |
| Muscular / Skeletal: | |
| Cardiovascular / Lymphatic: | Hypotension (low blood pressure) |
| Immune: | |
| Digestive: | Liver congestion, detoxification and regeneration |
| Endocrine: | Aids glandular problems, regulates thyroid but needs medical diagnosis |
| Genito-Urinary / Reproductive: | Stimulates kidney, aids cystitus, |
| Nervous Brain/ Mind: | Neurathenia (lassitude, fatigue, headache, irritability and emotional disturbance) |
Sheppard-Hanger, Sylla. The Aromatherapy Practitioner Reference Manual: Atlantic Institute of Aromatherapy, 1999. Print.
Shelf Life of Carrot Seed Essential Oil:
Our freshly decanted Carrot Seed essential oil will last for 1-2 years minimum from when you open your amber glass bottle if stored correctly:
Primary Storage Considerations:
Keep away from direct light (U.V. radiation)
Keep in the amber glass bottle with lid tightly closed. Only open when you need to and decant into a smaller "working" amber glass bottle if possible (and label so you know what is in it). This is to reduce oxidation.
Secondary Storage Considerations:
Keep in a refrigerator at around 4 degrees celsius.
Carrot Seed essential oil is a wild, musky essential oil that is slightly spicy and warm. Carrot Seed oil imbues a delicious aroma, which is evident through the herb's white lacy flowers with purple centres.
Loved for its carminative properties, our Carrot Seed essential oil has a woody and earthy scent with a medium but sharp aroma that caresses a relaxing affect. This essential oil has been known to revitalise and tone the skin, and might be helpful in detoxifying the liver.
Carrot Seed essential oil blends well with Geranium, Rosewood, Frankincense, Blue Cypress and Lavender.