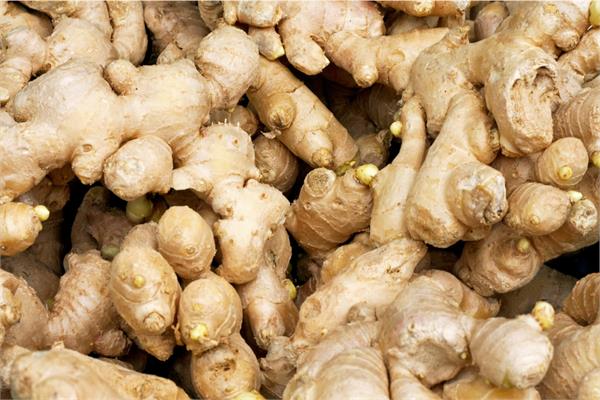 Ginger Essential Oil (CO2 Extracted)
PGINC
Zingiber officinale (Germany)
$8.00
Ginger Historical Snippets:
As we know today, Ginger is one of the most well-known and highly adored plants in the world. The ancient oil has quite a long history as it has been used throughout many different civilizations. One of its most popular uses in modern times is for digestive complaints. This may be due to the discovery by Chinese philosopher, Confucius, who once noted that he never ate a meal without Ginger.
Description

Ginger Oil, CO2 Extracted Safety
Ginger Essential Oil
(Zingiber officinale)
Roots - CO2
Aromatherapeutic Uses:
Aching muscles, arthritis, nausea, poor circulation. [Julia Lawless, The Illustrated Encyclopedia of Essential Oils (Rockport, MA: Element Books, 1995), 60-64.]
Ginger Essential Oil Aromatherapy References:
SYSTEMS

Ginger (Zingiber officinale) Essential Oil

Integumentary:

Bruises, sores

Respiratory:

Catarrh, chronic bronchitis, congestion, cough, sinusitis, sore throat, tonsillitis,

swollen glands (Medical Diagnosis Required), dries excess mucus

Muscular/Skeletal:

Arthritis, fatigue, muscle aches & pains, injury, sprains, strains, aids rheumatism pain

Cardiovascular/Lymphatic:

Poor circulation, varicose veins, eases angina (Medical Diagnosis Required)

Immune:

Chills, colds, flu, fever, infectious disease - raises body temperature

Digestive:

Tooth ache, meteorism (gas in abdomen), diarrhoea, colic, cramp, loss of appetite,

flatulence, constipation, indigestion, travel sickness, nauseas, vomiting, anorexia

(MDR), hangover

Endocrine:

Genito-Urinary/Reproductive:

Regulates menstruation, when affected by colds, breaks down clots after childbirth,

aids impotence, frigidity

Nervous Brain/Mind:

Debility, nervous exhaustion, tiredness, stimulant but grounding, aids memory,

warms cold flat emotions, sharpens senses
Sheppard-Hanger, Sylla. The Aromatherapy Practitioner Reference Manual: Atlantic Institute of Aromatherapy, 1999. Print.
Shelf Life of Ginger Essential Oil:
Our freshly decanted Ginger essential oil will last for 2-3 years minimum from when you open your amber glass bottle if stored correctly:
Primary Storage Considerations:
Keep away from direct light (U.V. radiation)
Keep in the amber glass bottle with lid tightly closed. Only open when you need to and decant into a smaller "working" amber glass bottle if possible (and label so you know what is in it). This is to reduce oxidation.
Secondary Storage Considerations:
Keep in a refrigerator at around 4 degrees celsius.
Cherished for its sharp and woody scent, the healing and uplifting properties of this essential oil may help you relax while elevating your mood.
Ginger essential oil has a spicy and peppery aroma that has a hint of lemon and wood. Aromatherapists believe that this oil is useful for nausea, colds and flu. It also has warming and aphrodisiac properties that can help you energise your body and mind.
Ginger essential oil blends perfectly with Ylang Ylang, Sandalwood, Bergamot, other spice oils and citrus oils.
PLEASE REMEMBER: All our exotic and rare (hence more costly) essential oils and absolutes are available in jojoba. This allows you the benefit of enjoying Ginger Oil but in a jojoba oil base at a great price. An extremely cost effective way to experience essential oils and absolutes!