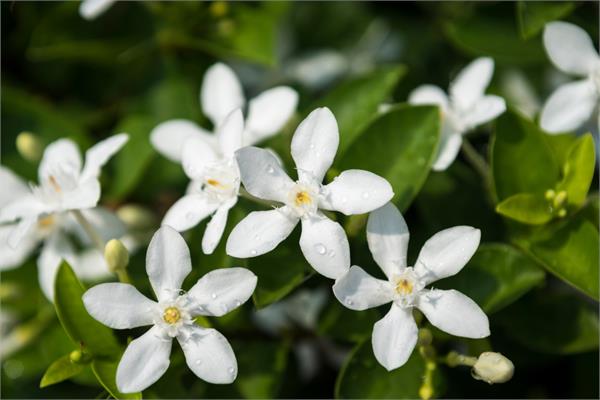 Jasmin Absolute
PJAS
Jasminum officinale (India)
$19.50
Jasmine Absolute Historical Snippets:
Known as the oil of romance, it has been recorded that Jasmine was often used in love potions. In traditional Chinese medicine, the plant has treated dysentery, hepatitis, headaches, joint pain and insomnia to name a few.
Description

Jasmin Absolute Safety
Jasmin Absolute
(Jasminum officinale)
Flowers - Solvent
Aromatherapeutic Uses:
Depression, dry skin, exhaustion, labor pains, sensitive skin. [Julia Lawless, The Illustrated Encyclopedia of Essential Oils (Rockport, MA: Element Books, 1995), 57-67.]
Shelf Life of Absolutes, Resins & Resinoids
Our freshly decanted Absolutes, Resins & Resinoids will last for 3-4 years minimum from when you open your amber glass bottle if stored correctly:
Primary Storage Considerations:
Keep away from direct light (U.V. radiation)
Keep in the amber glass bottle with lid tightly closed. Only open when you need to and decant into a smaller "working" amber glass bottle if possible (and label so you know what is in it). This is to reduce oxidation.
Secondary Storage Considerations:
Keep in a refrigerator at around 4 degrees celsius.
Jasmine absolute is loved for its smooth floral fragrance, this exotic essential oil can help you sooth and relax physically, mentally and spiritually.
Jasmin Absolute essential oil has an intense floral aroma that lingers between sweet and flowery. The oil has calming properties with a sensual side that may help you with peacefulness and love.
Jasmine absolute blends well with all kinds of oil blends but works exceptionally well with Ylang Ylang and Sandalwood.
PLEASE REMEMBER: All our exotic and rare (hence more costly) essential oils and absolutes are available in jojoba. This allows you the benefit of enjoying Jasmin Absolute but in a jojoba oil base at a great price. An extremely cost effective way to experience essential oils and absolutes!