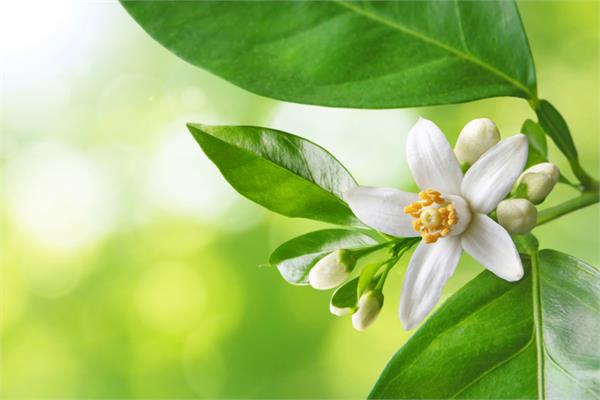 Neroli Bigarade Essential Oil
PNER
Citrus aurantium petals (Tunisia)
$29.00
Neroli Bigarade Historical Snippets:
It is believed that Neroli was given its name by the Princess of Neroli, Anna Maria de la Tremoille. Interestingly the oil was worn by prostitutes in Madrid so that customers could recognize them. Therapeutically it was used against the plague in Venice. One kilogram of oil is made from one tonne of Neroli flowers which is the reason behind its high expense.
Description

Neroli Bigarade Oil Safety
Neroli Bigarade Essential Oil
(Citrus aurantium)
Flowers - Steam Distilled
Aromatherapeutic Uses:
Depression, frigidity, insomnia, mature skin, scars, shock, stress, stretch marks. [Julia Lawless, The Illustrated Encyclopedia of Essential Oils(Rockport, MA: Element Books, 1995), 59-67.]
Neroli Essential Oil Aromatherapy References:
SYSTEMS

Neroli Bigarade (Citrus aurantium) Essential Oil

Integumentary:

Thread veins, scars, stretch marks, dry devitalized, oily, acne, mature and sensitive

skin, improves elasticity

Respiratory:

Bronchitis, pleurisy (Medical Diagnosis Required), pulmonary tuberculosis (MDR)

Muscular / Skeletal:

Useful for increasing muscle tone

Cardiovascular / Lymphatic:

Cardiac circulatory & arterial tonic, balances blood pressure, poor circulation, eases

palpitations, eases phlebitis (Medical Diagnosis Required), varicosities, haemorrhoids

Immune:

Immune stimulant

Digestive:

Chronic diarrhea, colic, colitis, gas, spasm, calming effect on intestines, tonic effect

on liver & pancreas

Endocrine:

Genito-Urinary / Reproductive:

Aphrodisiac, relieves emotional depression with PMS and menopause, aids labour

Nervous Brain/ Mind

Shock, stress, anxiety, depression & insomnia due to depression, disappointment &

sadness, mild hypnotic, tranquilizes sympathetic nervous system, instils peace,

purity, aids in all spiritual work, reconnecting with higher self, promotes self

confidence, ability to take initiative
Sheppard-Hanger, Sylla. The Aromatherapy Practitioner Reference Manual: Atlantic Institute of Aromatherapy, 1999. Print.
Shelf Life of Neroli Essential Oil:
Our freshly decanted Neroli essential oil will last for 1-2 years minimum from when you open your amber glass bottle if stored correctly:
Primary Storage Considerations:
Keep away from direct light (U.V. radiation)
Keep in the amber glass bottle with lid tightly closed. Only open when you need to and decant into a smaller "working" amber glass bottle if possible (and label so you know what is in it). This is to reduce oxidation.
Secondary Storage Considerations:
Keep in a refrigerator at around 4 degrees celsius.
Neroli essential oil is known for its uplifting and clarifying properties. Neroli may help uplift your spirit and clarify your skin.
Neroli oil has a floral and earthy aroma that has a slight hint of spice. Used in baths, perfumes and massage, the uplifting and clarifying properties may help you reduce unwanted stress.
Neroli essential oil is a versatile oil, it can blend well with almost any other oil you decide to blend with as a truly beautiful top note.