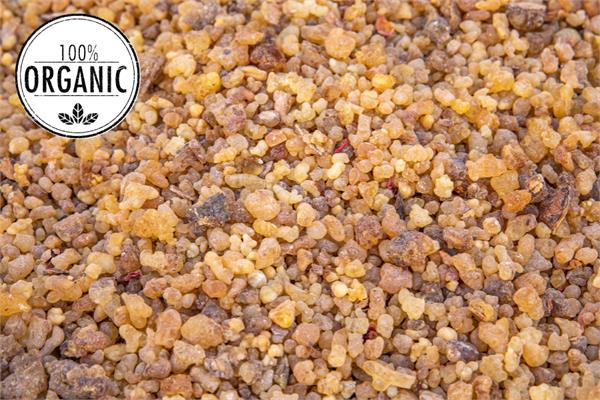 Organic Frankincense Essential Oil - Serrata
OFRAS
Boswellia serrata (India)
$16.50
Frankincense Historical Snippets:
Used throughout many religious cultures for its calming influence and aid to meditation and prayer, Frankincense may be one of the oldest recorded oils around today. It has been recorded that the three wise men brought it to the birth of Christ in Bethlehem. It was (and continues to be) such a highly sought after tree that legends about it being guarded by dragon-like creatures were made up in an attempt to scare off potential harvesters. At some point it was even considered to be more valuable than gold.
Description

Aromatherapy References

Organic Frankincense Safety
Organic Frankincense Essential Oil -Serrata
(Boswellia serrata)
​Organic Steam Distilled Resin
Loved for its delicate charm and rich aroma, Frankincense may help you relax with its uplifting and calming properties.
Organic Frankincense Essential Oil (serrata chemotype) has a woody bouquet, with a tangy lemon aroma that is slightly warm. Popular usages include inhalation and massage, and it may help you revitalise your overworked body and mind.
Blends exceptionally well with Floral, Citrus and Cedarwood oil blends.
As A Matter of Interest
It takes approximately 100 kilograms of raw material to produce 1 kilogram of Frankincense Boswellia essential oil.

Olibanum or Frankincense resin is graded by colour. The lighter the colour of the resin, the higher quality the oil is. Therefore, the darker resinous grades are of a lower quality.

The harvesting of the resin by the families in Frankincense growing regions is usually carried out between September to December.

The solid resinous sap is collected by hand on an approximately 3-week cycle by the men of the village. The ladies sort and grade the resin.

The criteria that influence the quality of the resin are the age and quality of the tree, the geographical location and timing of the harvest. The higher grade premium resin comes from higher up the tree and the darker lower grade resin is around the base and sometimes even on the ground.