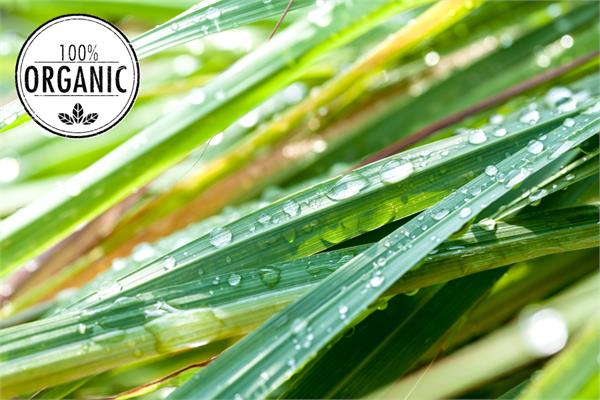 Organic Lemongrass Essential Oil
OLEMG
Cymbopogon citratus (India)
$8.65
Lemongrass Historical Snippets:
Lemongrass essential oil may be within one of the top 10 most favourable oils with aromatherapists today. However, it has only been around for less than one hundred years. Which isn't very long when compared to other popular ancient oils. Like lemon oil, lemongrass holds many diverse uses. Ranging from repellents, shampoos, soaps and detergents to more therapeutic actions such as colds, coughs, arthritis, rheumatism and digestive disorders. It was used quite extensively throughout traditional Chinese and ayurvedic medicine.
Description

Organic Lemongrass Safety
Organic Lemongrass Essential Oil
(Cymbopogon citratus)
​Organic Leaves-Steam Distilled
The refreshing aroma of the herbaceous lemongrass can help you soothe the skin and hair.
Organic Lemongrass Essential Oil has a strong and herbaceous aroma that has a 'lemony' touch due to its citral content. The anti-bacterial, anti-fungal and sedative properties of this exotic oil can act as a tonic for the body, and can also help you fight infections.
This is a highly versatile oil that blends with just about every other oil blend.
Organic Lemongrass Aromatherapy References
SYSTEMS

Lemongrass (Cymbopogon citratus) Essential Oil

Integumentary:

Acne, athlete's foot, skin parasites, bruises, excessive perspiration, enlarged pores,

oily skin & hair, cellulite, tissue toner – stimulates hydration & lymphatic

detoxification, aids weak connective tissue & tightens elastin weakness (Caution:

avoid use on sensitive or damaged skin)

Respiratory:

Muscular / Skeletal:

Arthritis, after sports muscle pain (sprain, bruises, dislocation), bruises, improves

muscle tone, use for all connective tissue

Cardiovascular / Lymphatic:

Aids arteritis (Medical Diagnosis Required), stops bleeding, increases circulation,

increases lymphatic circulation & detoxification

Immune:

Fevers, infections, aids environment disinfection, deodorant, supports thymus gland,

activates resistance cells, t-lymphocytes, histocytes, granulocytes

Digestive:

Colitis indigestion, gastro enteritis, stimulates liver, stimulates digestion, intestinal

antiseptic, intestinal parasites

Endocrine:

Supports thymus gland & spleen function

Genito-Urinary / Reproductive:

Induces menstruation, increases milk in nursing mothers

Nervous Brain/ Mind

Sedative headaches, stress related conditions, nervous exhaustion, irritability, lack of

concentration, morning fatigue
Sheppard-Hanger, Sylla. The Aromatherapy Practitioner Reference Manual: Atlantic Institute of Aromatherapy, 1999. Print