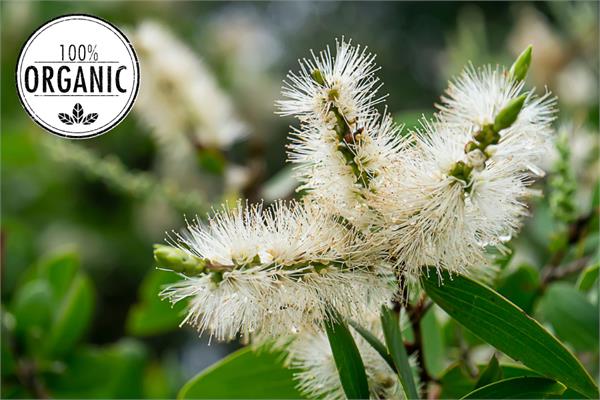 Organic Niaouli Essential Oil
ONIA
Melaleuca viridiflora (Madagascar)
$9.90
Niaouli Historical Snippets:
French Polynesia and Caledonia have considered Niaouli essential oil to be a "cure-all". It was used to support healthy bowels, malaria during ancient times, mouth hygiene and in French hospitals for its antimicrobial properties. Fascinatingly, Australian Aborigines used the Niaouli leaves in a brewed tea to save Sir Francis and his crew from exhaustion and scurvy.
Description

Organic Niaouli Oil Safety
Organic Niaouli Essential Oil
(Melaleuca viridiflora)
​Organic Whole Leaves-Steam Distilled
The clear floral scent of this exotic oil may help you as a physical and mental stimulant.
Organic Niaouli essential oil has a sharp yet slightly campherous scent with clear floral notes. It has antiseptic, cleansing and clearing properties that may help you focus.
Blends perfectly with Sweet Fennel, Juniper, Lavender, Lemon, Myrtle, Rosemary, and Scotch Pine.
Organic Niaouli Aromatherapy References:
SYSTEMS

Niaouli (Melaleuca viridiflora) Essential Oil

Integumentary:

Acne, boils, cuts, infections, insect bites, oily skin, firm's tissues, aids wrinkles,

psoriasis, fungal infections, leprosy type ulcers (for itchy, scaly skin), collection of

pus, gangrenous wounds, cold abscesses, fistula, scalp crusts, protects from deep

burns in radiation (use pre-& post radiation treatment)

Respiratory:

Asthma, respiratory allergies, coughs, chronic bronchitis & catarrh, sinusitis, sore

throat, laryngitis whooping cough, tuberculosis abscess (Medical Diagnosis

Required), pulmonary gangrene (MDR), pleurisy (MDR), bronco-pneumonia (MDR),

laryngeal TB (MDR), otitis

Muscular / Skeletal:

Muscular aches & pains, rheumatism, rheumatoid arthritis

Cardiovascular / Lymphatic:

Poor circulation, haemorrhoids, thread veins, varicose veins, coronaritis (Medical

Diagnosis Required), endocarditis (MDR), arteritis (MDR), thins blood (MDR)

Immune:

Colds, fever, viral infection, (myxovirus flu protection), immuno globulins and

antibody activity, prophylaxis for scarlet fever (Medical Diagnosis Required),

measles, smallpox, mumps (MDR), tetanus bacillus (MDR), eruptive fevers, swollen

glands (MDR), typhoid fever (inhalation) (MDR), rinse mouth & hands before surgery

to avoid shock, nausea and to prevent infections, when entering sick room cover

face with gauze mask impregnated with a few drops

Digestive:

Gastritis, flatulence, ulcers (gastric, duodenum), viral hepatitis Z(Medical Diagnosis

Required), sluggish liver, diarrhea, aids dysentery, intestinal worms, enteritis,

appendicitis, food poisoning, disinfects drinking water with lemon

Endocrine:

Genito-Urinary / Reproductive:

Cystitis, all urinary tract infections, vaginal irritations, urethritis, prostatitis (Medical

Diagnosis Required), genital herpes (MDR), metritis (MDR), endometriosis (MDR),

salpingitis (MDR), leucorrhea, cracked nipples

Nervous Brain/ Mind

Nervous depression (due to infection), aids concentration, reviving, clears head
Sheppard-Hanger, Sylla. The Aromatherapy Practitioner Reference Manual: Atlantic Institute of Aromatherapy, 1999. Print