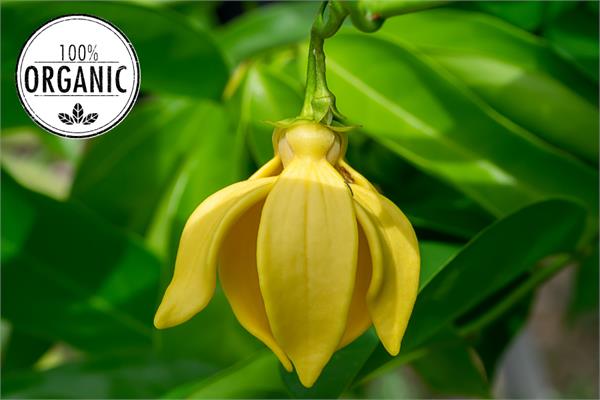 Organic Ylang Ylang Essential Oil (Complete)
OYLAC
Cananga odorata (Australia)
$23.50
Ylang Ylang Historical Snippets:
Ylang Ylang has gone through a number of different uses throughout history. In Indonesia and the Philippines, it was placed on the bed of a newlywed couple and also burned by Muslim women to scent harems. Its medical properties were first recognized by French chemists, Garnier and Rechler at the beginning of the 20th century. They found the oil effective in treating intestinal infections, malaria and typhus. They also found it to be calming on the heart.
Description

Organic Ylang Ylang, Complete Safety
Organic Ylang Ylang Essential Oil
(Cananga odorata)
​Organic Whole Flowers-Steam Distilled
This Organic Ylang Ylang Oil is the complete version ie. contains all fractions.
Having one of the most loved aromas, this glamorous oil may induce euphoria while supporting the nervous and circulatory system.
Ylang Ylang essential oil has one the most pined after aromas, with a hint of floral and a dash of sweet, the exotic scent may cool your mind and stimulate the body.
Blends well with Lavender, Sandalwood, Bergamot, Neroli, and Grapefruit.
Organic Ylang Ylang Aromatherapy References:
| | |
| --- | --- |
| SYSTEMS | Ylang Ylang, Complete (Cananga odorata) Essential Oil |
| Integumentary: | Dermatosis & other skin conditions – itching, scabies, mange |
| Respiratory: | |
| Muscular / Skeletal: | |
| Cardiovascular / Lymphatic: | |
| Immune: | Abdominal congestion & spasms |
| Digestive: | |
| Endocrine: | |
| Genito-Urinary / Reproductive: | For pelvic congestion & spasms |
| Nervous Brain/ Mind | |
Sheppard-Hanger, Sylla. The Aromatherapy Practitioner Reference Manual: Atlantic Institute of Aromatherapy, 1999. Print.
Shelf Life of Ylang Ylang Essential Oil:
Our freshly decanted Ylang Ylang essential oil will last for 2-3 years minimum from when you open your amber glass bottle if stored correctly:
Primary Storage Considerations:
Keep away from direct light (U.V. radiation)
Keep in the amber glass bottle with lid tightly closed. Only open when you need to and decant into a smaller "working" amber glass bottle if possible (and label so you know what is in it). This is to reduce oxidation.
Secondary Storage Considerations:
Keep in a refrigerator at around 4 degrees celsius.