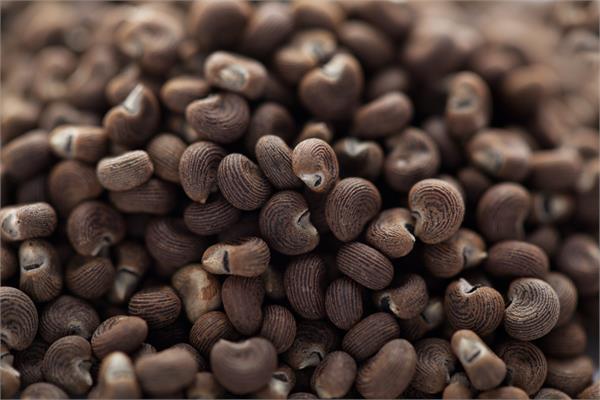 Ambrette Seed Essential Oil
PAMB
Abelmoschus moschatus
(syn.Hibiscus abelmoschus) (France)
$39.90
Ambrette Seed Historical Snippets:
Ambrette Seed Essential Oil has a latin name meaning "father of musk" and is originally from the Arabic. Initially from the Indian Subcontinent the ambrette seeds were eventually traded into the Middle East. Used at the time as a spice and also to infuse into coffee. As musk from deer glands is now not being used Ambrette Seed Oil is the next best thing in natural perfumes.
Description

Ambrette Oil Safety
Ambrette Seed Essential Oil
(Abelmoscus moschatus)
Seeds - Steam Distilled
Aromatherapeutic Uses:
Aches, stiffness, poor blood circulation, low blood pressure, anxiety, depression. [Julia Lawless, The Illustrated Encyclopedia of Essential Oils (Rockport, MA: Element Books, 1995), 60-66.]
BUYER BEWARE: Some Australian retailers are selling this expensive perfumery fixative and spiritual / meditation oil for less than the bulk wholesale price. How can they do this? I think you know the answer.
Ambrette Seed Essential Oil Key Constituents:
Below constituent ranges comprise 68% of the data within the normal distribution curve.
Growing conditions or plant chemotype can change constituent levels or constituents themselves.
E-Farnesyl acetate 30.0–65.3%
Farnesol 3.4–39.0%
Ambrettolide 7.6–14.7%
Decyl acetate 0–5.6%
Dodecyl acetate 0.2–4.0%
Nerolidol 0.1–2.0%
Tetradecen-14-olide 0–1.8%
Tetradecenyl acetate 0–1.6%
Hexadecanoic acid 0–1.4%
Decanol trace–1.0%
(Source: Lawrence 1993 p.177–178, 1996 p. 58)
Ambrette Seed Essential Oil is used a a substitute for animal musk in perfumery. A sweet, earthy & musky bouquet with hints of herbs. Ambrette Seed Oil paints a picture of a charming summer breeze that goes through a garden full of blooming flowers. It may help you clear those unwanted thoughts with its oriental surprise. Supportive of the adrenal glands. A de-stressor and anxiety reducer.
It can be blended with any other oil blends, but goes best with Floral and Aphrodisiac blends.
PLEASE REMEMBER: All our exotic and rare (hence more costly) essential oils and absolutes are available in jojoba. This allows you the benefit of enjoying Ambrette Seed Oil but in a jojoba oil base at a great price. An extremely cost effective way to experience essential oils and absolutes!