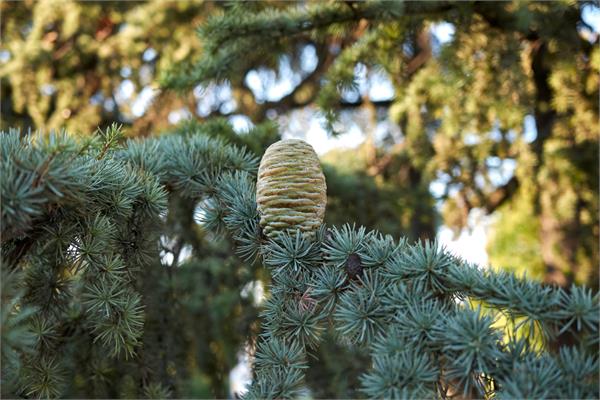 Cedarwood, Atlas Essential Oil
PCEDA
Cedrus atlantica (Morocco)
$8.90
Cedarwood Historical Snippets:
Possibly one of the first essential oils to be extracted from a plant, Cedarwood oil had many uses. It was used as a base for paints by ancient Sumerians, while it was used to mummify bodies by the ancient Egyptians and Greeks as they believed it helped make one immortal. Cedarwood treated a number of varying maladies from urinary tract infections to bronchial infections. It was even used as an insect repellent. The Native Americans would burn the plant to be used in their rituals which they believed the smoke would carry their prayers to the Great Spirit.
Description

Cedarwood, Atlas Oil Safety
Cedarwood, Atlas Essential Oil
(Cedrus atlantica)
Wood - Steam Distilled
Cedarwood Atlas Essential Oil Aromatherapeutic Uses:
SYSTEMS

Atlas Cedarwood Essential Oil

Integumentary:

Acne, oily skin (scalp and hair), fungus, scabs, pus, chronic dermatosis, seborrhea,

Dandruff and alopecia ( hair loss)

Respiratory:

Respiratory infection or congestion, chronic bronchitis & coughs, dries excess

phlegm, diffused-kills airborne bacteria and fungus

Muscular / Skeletal:

Rheumatism and arthritis pain

Cardiovascular / Lymphatic:

Stimulates lymph circulation

Immune:

Stimulates immune system

Digestive:

Endocrine:

Regulates glandular system

Genito-Urinary / Reproductive:

Urinary infections, chronic urethritis, vaginitis, cystitus pain, tonic for kidneys

Nervous Brain/ Mind:

Regulates nervous system, sedative, fear, anger, disconnectedness, lacking integrity and independence, meditation, adds balance and control in our lives
Sheppard-Hanger, Sylla. The Aromatherapy Practitioner Reference Manual: Atlantic Institute of Aromatherapy, 1999. Print.
Cedarwood Atlas Essential Oil Therapeutic Properties:
Acne, arthritis, bronchitis, coughing, cystitis, dandruff, dermatitis, stress.
[Julia Lawless, The Illustrated Encyclopedia of Essential Oils (Rockport, Massachusetts: Element Books, 1995), 56-67.]
This majestic essential oil is known for its woody and sweet aroma, and has a sharper hint of balsamic that is infused within its rich golden texture.
Cedarwood Atlas is an 'uplifting' and 'warming' toning oil, which is strongly aromatic, it is helpful in controlling acne and can also assist in soothing and relaxing the body and mind.
Grounding and stimulating – our Cedarwood Atlas is considered an aphrodisiac with a reviving affect, and blends well with citrus oils, Chamomile and Eucalyptus.