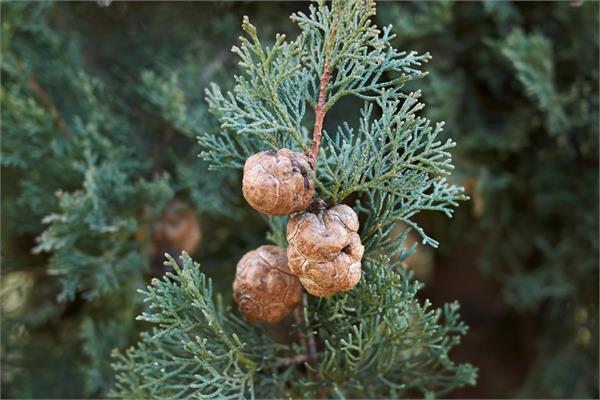 Cypress Essential Oil
PCYPA
Cupressus sempervirens (Austria)
$7.20
Cypress Historical Snippets:
The Cypress tree has been used throughout many ancient civilizations. The oldest tree is over 7000 years old and stands in Iran. The wood was used to create coffins for Pharaohs due to the belief that the wood would not rot over time. Cypress has long considered to symbolise transformation and change as it is believed the cross of Jesus was made from the wood. Due to its fairly masculine scent, Cypress oil can be found in men's aftershave and cologne.
Description

Cypress Oil - Austrian Safety
Cypress Essential Oil
(Cupressus sempervirens)
Needles & Twigs - Steam Distilled
Aromatherapeutic Uses:
Astringent, Excessive perspiration, hemorrhoids, menorrhagia, oily skin, rheumatism, varicose veins. [Julia Lawless, The Illustrated Encyclopedia of Essential Oils (Rockport, MA: Element Books, 1995), 57-65.]
Cypress Essential Oil Aromatherapy References:
SYSTEMS

Cypress Austrian (Cupressus sempervirens) Essential Oil

Integumentary:

Mature, oily, acne and over hydrated skin, excessive perspiration, edema-simple

water retention, varicose veins, cellulite, wound healing; stimulates skin circulation

Respiratory:

Sore throat, hoarseness, laryngitis, sinusitis, asthma, bronchitis, spasmodic cough,

whooping cough, pulmonary tuberculosis (Medical Diagnosis Required)

Muscular / Skeletal:

Muscle cramp, edema-simple water retention, aids arthritis, rheumatism

Cardiovascular / Lymphatic:

Poor circulation, aids haemorrhoids – internal & external, varicosities; purifies blood

Immune:

Immune stimulant

Digestive:

Bleeding gums, colitis, gut infections, stimulates sluggish intestines,

hepatopancreatic, pancreatic stimulant

Endocrine:

Can act as female hormone stimulant, may increase pancreatic action

Genito-Urinary / Reproductive:

Induces menstruation, eases painful periods, menopausal hot flashes & tension,

cramps, PMS, regulates menstrual cycle; decongests prostate with mastic, pine

diuretic – increase urinary flow, eases edema – simple water retention, aids in

enuresis bed wetting

Nervous Brain/ Mind

Nervous tension, stress related conditions, debility, asthenia, anger, lack of

concentration, sexual preoccupation, nervous breakdown, uncontrolled crying &

talking, squandering energy, spiritual aid for transitions ( death), cleanses spirit,

removes psychic blocks, purifies, cleans psychically
Sheppard-Hanger, Sylla. The Aromatherapy Practitioner Reference Manual: Atlantic Institute of Aromatherapy, 1999. Print.
Shelf Life of Cypress Essential Oil:
Our freshly decanted Cypress essential oil will last for 2-3 years minimum from when you open your amber glass bottle if stored correctly:
Primary Storage Considerations:
Keep away from direct light (U.V. radiation)
Keep in the amber glass bottle with lid tightly closed. Only open when you need to and decant into a smaller "working" amber glass bottle if possible (and label so you know what is in it). This is to reduce oxidation.
Secondary Storage Considerations:
Keep in a refrigerator at around 4 degrees celsius.
A majestic conifer with a slight sweet background note, the mid to base note helps elevate the aroma similar to Spruce essential oil.
Cypress essential oil has a full bouquet that cleanses and purifies. This magnificent essential oil can refresh your house, can be used as a deodoriser, and may increase your concentration.
Cypress essential oi blends exceptionally well with bergamot, grapefruit, juniper, lavender, lemon, orange, spruce, sandalwood, cedarwood and myrtle.