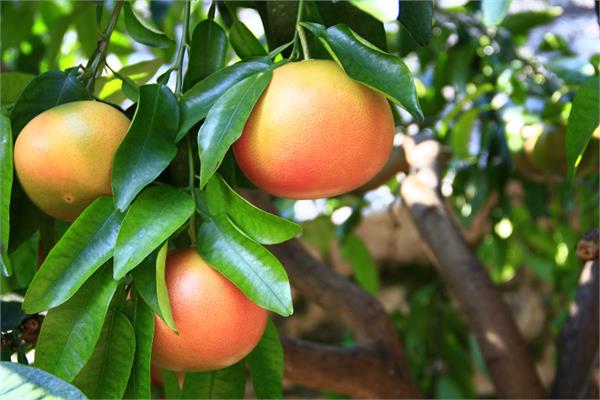 Grapefruit Essential Oil (White)
PGRAA
Citrus paradisi (Australian)
Cold Pressed
$9.00
Grapefruit Historical Snippets:
The name Grapefruit translates to 'forbidden fruit', which goes hand in hand with its origin. Due to the lack of documentation on the fruit, there are only theories surrounding how grapefruit came about. The most well-known theory is of shaddock seeds being left in Barbados during the 18th century by an Englishman named captain Shaddock.
Description

Grapefruit Oil, White Safety
Grapefruit Essential Oil - White
(Citrus paradisi)
Peel - Cold Pressed
Aromatherapeutic Uses:
Cellulitis, dull skin, toxin build-up, water retention. [Julia Lawless, The Illustrated Encyclopedia of Essential Oils (Rockport, MA: Element Books, 1995), 57-60.]
Grapefruit Essential Oil Aromatherapy References:
SYSTEMS

Grapefruit (Citrus paradisi) Essential Oil

Integumentary:

Athlete's foot, acne, oily skin, tones congested skin, tightens skin, aids hair growth,

cellulite

Respiratory:

Airborne disinfectant

Muscular/Skeletal:

Eases muscle fatigue, stiffness

Cardiovascular/Lymphatic:

Increases circulation, stimulates lymphatic system detoxification

Immune:

Colds, chills, flu, environmental disinfectant

Digestive:

Internally stimulates gallbladder, digestive aid, liver tonic, useful in anorexia/

bulimia (Medical Diagnosis Required)

Endocrine:

Genito-Urinary/Reproductive:

Increases urine flow, eases water retention

Nervous Brain/Mind:

Depression, headache, nervous exhaustion, performance stress, jet lag, PMS, alcohol

and drug withdrawal, self-doubt, gives confidence
Sheppard-Hanger, Sylla. The Aromatherapy Practitioner Reference Manual: Atlantic Institute of Aromatherapy, 1999. Print.
Shelf Life of Grapefruit Essential Oil:
Our freshly decanted Grapefruit essential oil will last for 1-2 years minimum from when you open your amber glass bottle if stored correctly:
Primary Storage Considerations:
Keep away from direct light (U.V. radiation)
Keep in the amber glass bottle with lid tightly closed. Only open when you need to and decant into a smaller "working" amber glass bottle if possible (and label so you know what is in it). This is to reduce oxidation.
Secondary Storage Considerations:
Keep in a refrigerator at around 4 degrees celsius.
The exotic characteristics of Grapefruit essential oil may help you relax while giving you a spiritual 'uplift'.
Grapefruit essential oil has a slightly bitter and fresh citrus aroma and may help you ease fatigue and muscle stiffness. It also has clarifying properties that may help with acne and oily skin.
Grapefruit essential oil blends well with other Citrus oil blends and Spice oils.