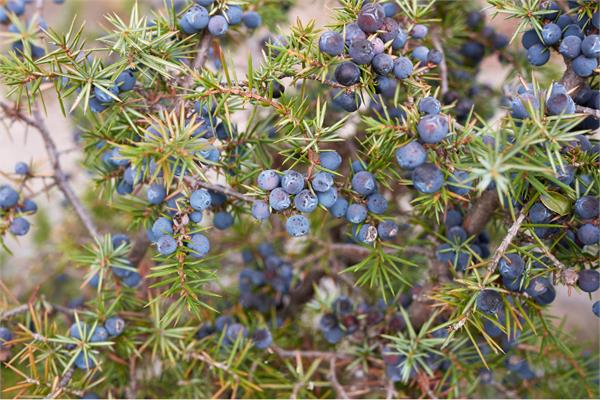 Juniper Berry Essential Oil
PJUN
Juniperus communis (Croatia)
$9.90
Juniper Berry Historical Snippets:
In ancient times the Juniper plant was believed to possess magical powers which could ward off evil spirits, negative forces and illness. In Egypt, the berries were found in tombs, and used as an ingredient in religious incense. In Greece, it was believed to increase strength and stamina and was therefore used by athletes of the Greek Olympics. Around 1550 BC the Egyptians discovered it to be a treatment for tapeworms. It has been used medically throughout many different cultures and has treated a number of varying conditions including respiratory conditions, urinary infections, colds, flu, muscle aches and kidney problems.
Description

Juniper Berry Oil Safety
Juniper Berry Essential Oil
(Juniperus communis)
Berries - Steam Distilled
Aromatherapeutic Uses:
Colds, flu, acne, cellulitis, gout, hemorrhoids, obesity, rheumatism, toxin build-up. [Julia Lawless, The Illustrated Encyclopedia of Essential Oils(Rockport, Massachusetts: Element Books, 1995), 58-61.]
Juniper Essential Oil Aromatherapy References:
SYSTEMS

Juniper Berry (Juniperus communis) Essential Oil

Integumentary:

Acne, dermatitis, hair loss, oily skin, blocked pores, varicose veins, cellulite, aids

eczema, ulcers, abscess, inflammation, dermatosis, wounds

Respiratory:

Chronic coryza & rhinitis, good airborne disinfectant

Muscular / Skeletal:

Gout pain, rheumatism

Cardiovascular / Lymphatic:

Haemorrhoids, heart tonic, circulatory stimulant; cleans blood & aids toxin

accumulation especially uric acid

Immune:

Colds, flu, infections

Digestive:

Toothache pain, aids detox from over indulgence food, alcohol, stimulates pancreatic digestion, eases gout, intestinal colitis

Endocrine:

Stimulates pancreas & kidneys, useful in diabetes

Genito-Urinary / Reproductive:

Eases menstruation pains, aids leucorrhoea, cystitis, genital warts, stimulates kidney and bladder

Nervous Brain/ Mind

Anxiety, nervous tension, stress related problems, jet lag, poor memory, weakness,

strengthens, uplifts, clears negative energy from room (before meditation) & from

others, brings love energy
Sheppard-Hanger, Sylla. The Aromatherapy Practitioner Reference Manual: Atlantic Institute of Aromatherapy, 1999. Print.
Shelf Life of Juniper Essential Oil:
Our freshly decanted Juniper essential oil will last for 2-3 years minimum from when you open your amber glass bottle if stored correctly:
Primary Storage Considerations:
Keep away from direct light (U.V. radiation)
Keep in the amber glass bottle with lid tightly closed. Only open when you need to and decant into a smaller "working" amber glass bottle if possible (and label so you know what is in it). This is to reduce oxidation.
Secondary Storage Considerations:
Keep in a refrigerator at around 4 degrees celsius.
Juniper Essential Oil is loved for its freshness and earthy-tone, the rich aroma of this evergreen oil may help you sooth your body and mind, it also has cleansing and relaxing properties.
Juniper essential oil has a woody and balsamic aroma with a small hint of sweet-greens. Well-known for its supporting and restoring properties, it is an excellent choice for detox and meditation, and may help you as a tonic and restorer.
Juniper essential oil blends perfectly with Rosemary, Sandalwood, Clary Sage, Bergamot, Marjoram and Geranium.