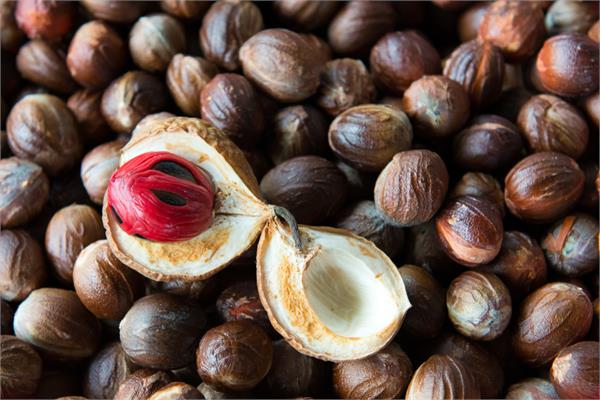 Nutmeg Essential Oil
PNUT
Myristica fragrans (Indonesia)
$10.50
Nutmeg Historical Snippets:
Nutmeg has been around since the 7th century. It was once considered to be extremely highly prized in Medieval Europe. Also in ancient Indian and Chinese royalties as they were known to use nutmeg for hallucinogenic reasons and therefore carried it around in small boxes ready to be added to drinks. The spice became very expensive during the Elizabethan era as it was believed to ward off the Black Plague. During the 18th century it was a valuable spice in the trading market and by the 19th century it was being used throughout many English dishes.
Description

Nutmeg Oil Safety
Nutmeg Essential Oil
(Myristica fragrans)
Fruit Kernels - Steam Distilled
Aromatherapeutic Uses:
Arthritis, constipation, fatigue, muscle aches, nausea, neuralgia, poor circulation, rheumatism, slow digestion. [Julia Lawless, The Illustrated Encyclopedia of Essential Oils (Rockport, MA: Element Books, 1995), 60-67.]
Nutmeg Essential Oil Aromatherapy References:
SYSTEMS

Nutmeg (Myristica fragrans) Essential Oil

Integumentary:

Hair tonic

Respiratory:

Bronchitis, colds, coughs, aids intercostal muscle pain

Muscular / Skeletal:

Arthritis, gout, rheumatism (acute & chronic), warms muscles, eases muscle ache &

pain, eases sprains, strains, fatigue & congestion after sports

Cardiovascular / Lymphatic:

Poor circulation, stimulates heart and circulation

Immune:

Bacterial infections, fever

Digestive:

Carminative, digestive stimulant, encourages appetite, decreases bad breath, aids

intestinal infections, auto intoxication, fermentations, parasites, diarrhea

Endocrine:

Genito-Urinary / Reproductive:

Frigidity, impotence, imitates estrogen, eases labour pains, increases contractions &

facilitates birthing, uterine tonic

Nervous Brain/ Mind

Fainting, neuralgia, nervous fatigue, strong psycho stimulant, stupefier invigorates

and activates mind, can produce intense dreams
Sheppard-Hanger, Sylla. The Aromatherapy Practitioner Reference Manual: Atlantic Institute of Aromatherapy, 1999. Print.
Shelf Life of Nutmeg Essential Oil:
Our freshly decanted Nutmeg essential oil will last for 2-3 years minimum from when you open your amber glass bottle if stored correctly:
Primary Storage Considerations:
Keep away from direct light (U.V. radiation)
Keep in the amber glass bottle with lid tightly closed. Only open when you need to and decant into a smaller "working" amber glass bottle if possible (and label so you know what is in it). This is to reduce oxidation.
Secondary Storage Considerations:
Keep in a refrigerator at around 4 degrees celsius.
Nutmeg essential oil is an all-time favourite, loved for its fragrance, this exotic oil has therapeutic and anti-inflammatory properties that may help you reduce pain and feel Inspired.
Nutmeg essential oil has a spicy and woody aroma. This essential may assist you with reducing fatigue, muscle aches and nausea.
Nutmeg oil blends perfectly well with aromatherapy oil blends, Lavender, Geranium, Orange, Clary Sage and Petitgrain.