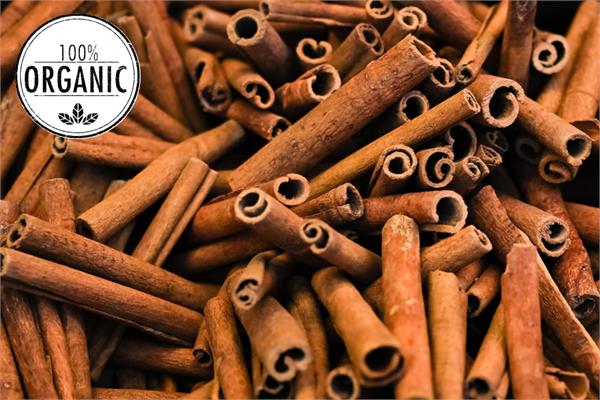 Organic Cinnamon Bark Essential Oil
OCIN
Cinnamomum zeylanicum (Sri Lanka)
$16.50
Cinnamon Bark Historical Use:
Used as part of the embalming perfume of the Kings and Queens of Egypt. As an ingredient in anointing oil mixtures also and may have even been used on funeral pyres by ancient Romans. Eventually in more modern times this Sri Lankan spice travelled out from its homeland and its versatility shone through.
Description

Aromatherapy References

Organic Cinnamon Bark Oil Safety
Organic Cinnamon Bark Essential Oil
(Cinnamomum zeylanicum)
Organic Whole Bark - Steam Distilled
Obtained from the dried inner bark, cinnamon bark oil has a more spicy aroma as compared to cinnamon leaf oil. It has uplifting and warming properties.
Overall could be described as spicy, warm yet sweet aroma.
Facts About Cinnamon Bark Oil
Cinnamon bark oil is much higher in cinnamaldehyde than leaf oil.

Quote: "Cinnamon Bark is empowering to the will and is one of the best oils for circulation especially during menopause." Light Miller

Cinnamon bark oil yield is 200 kg bark creates 1 kg oil as a rough guide.
How To Use Cinnamon Bark Oil?
Topically:
Diluted in a carrier oil and applied to skin-usually less than 0.08% cinnamon bark oil.

At a drop or two to a Winter massage blend as it is warming.
Aromatically:
Diffuse to open the airways. Use 1 drop cinnamon bark oil to 6 drops blood orange oil. The addition of the blood orange essential oil will uplift yet settle you.

Tissue or Cotton Ball Method: 2 drops on a tissue near where you are (ie. Studying, bedroom or office .)


Direct Palm Inhalation: Place 1 drop diluted in 50 ml carrier oil on your palms and cup near nose to enjoy. Has to be diluted as cinnamaldehyde is not skin friendly in high concentrations.
Ayurvedic Use Of Cinnamon Bark:
In an Ayurvedic sense cinnamon bark is used for treating malaria, headache, bad breath, digestive disorders, sinus congestion, dyspepsia, blood circulation, scabies and intestinal infections. Vatha and Kapha- Pacifying.
What Blends Well With Cinnamon Bark Oil?
Benzoin, bergamot, cardamom, clove, frankincense, ginger, grapefruit, mandarin, marjoram, peppermint, vanilla and ylang ylang complete
Cinnamon Bark- Main Constituents:
cadinene, camphor, cinnamaldehyde, eugenol,
Substitutions From Our Range?
Cinnamon Leaf Essential Oil is a fantastic option if skin reaction concerns are in question.